Name: Snowspider Mtn Scramble 2,494m
Starts: Fri Sep 04, 2020
Meetup: St. Davids church 5 PM Friday
Return: Sat Sep 05, 2020
Registration opens: Mon Aug 31, 2020
Event category: Scrambling
Difficulty grade: C3 [?]
For members only: Yes
Screening used: Yes
Max participants: 6
Organizer: Dean Chamberland

Profile info:
What are your C19 questionnaire results?
What similar mountains have you completed?
What is your Grind/19 km run/or equivalent time?
How comfortable are you on exposed slopes?
You must login in order to sign up online for one of the BCMC Trips. If you don't have a BCMC membership account then please obtain one.  If you'd prefer to learn more before joining then please join as a 30-day Guest member.   Some trips are BCMC members only.
If interested, please sign up no later than Tuesday night (trip planning discussion takes place Wednesday).
Our team intended to do Snowspider last weekend, however the area forecast had us change to the Hope area and summit Silvertip instead, so this is a do-over in case you are experiencing deja vu. Weather looks great this time around.
Long day scramble at a moderate speed (in my opinion) up steep NW Ridge slopes via the Twin One FSR: leave Friday for a Car Camp before a heavy Saturday involving some moderate bushwhacking. The FSR is in good shape, however a HC 4x4 will get you further in; otherwise a 2wd should suffice for much of the way.    
This is a scramble, and not a trail hike, so bring your brain bucket.
Ice axe and crampons 'may' be needed/desired for the section of pocket glacier travel, although I expect soft snow for the little that remains. They could be considered optional given how late in the season this is
A rope is optional for rappelling the summit gap, for those wanting to tag the 2nd summit; to be discussed in planning forum.
Participants should be:
a team player ready and willing to contribute to a successful trip and a fun group experience. 
experienced, capable, and well-equipped for backcountry travel.  
in excellent physical condition and can finish the Grind or 10 km run <60 mins 
able to Lead the trip; Please do the research; at least for your own safety, if for no other reason
Glamping is certainly welcome for the Friday night car camp.
Thanks for your interest
Please answer all questions in BC's C19 Assessment Tool: https://bc.thrive.health/covid19/en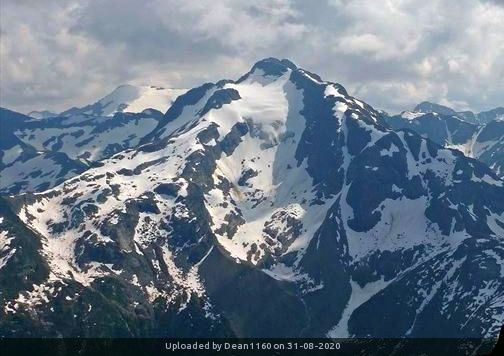 Other trips or events organized by this BCMC member

Friday night car camp ahead of 3 days of hiking up one of the taller peaks in SW BC

Helicopter in (& out) to Caltha Pk area (outside Park boundary)

Non-technical day hike with minor scrambling past D'Arcy. Friday night car camp