Name: Rock Climbing Elbow Lake Near Mission
Starts: Sun Sep 13, 2020
Meetup: Parking lot beside Lougheed Skytrain Station at 8:00 a.m.
Return: Sun Sep 13, 2020
Registration opens: Sat Sep 05, 2020
Event category: Rock Climbing
Difficulty grade: A5 [?]
For members only: No
Screening used: Yes
Max participants: 6
Organizer: Carolyn T Steingard

Profile info:
1. Please provide the answers to the COVID questionnaire
2. What is your climbing experience?
3. Do you have rope in particular 70 metres?
4. Can you build and clean anchors?
5. Can you top rope/lead belay?
You must login in order to sign up online for one of the BCMC Trips. If you don't have a BCMC membership account then please obtain one.  If you'd prefer to learn more before joining then please join as a 30-day Guest member.   Some trips are BCMC members only.
Please answer the Covid-19 questionnaire ( https://bc.thrive.health/covid19/en) and let me know your answers in the questions.
The crags in this area are across the road from the beautiful Elbow Lake. It is a great area to climb and we spent time at the Girlfriend Wall. The climbs are a little bit on the harder side but they are fun.
This trip will be a mix of sport climbing, top rope, and trad if you choose to do that. This event is not for beginners and is not a course so everyone should know how to build and clean anchors.
I have a guidebook which I will bring. Please bring:
Snacks
Water
Helmet
Harness/Shoes
Anchor Building Material
Quickdraws
rope in particular 70 metres if you have it. Some of the walls are at least 30 metres. 
Trad gear if you have it. One route requires protection. 
Stick clip if you have it. The first bolts can be high. 
If there is time we might check out Hadrian's Wall, a crag across the road and up a short road overlooking the lake. Then we will spend time at the lake afterwards.
My results for the COVID-19 assessment. " You Don't Appear to Symptoms of COVID-19."  Before we leave for the trip I will be reconfirming with everyone that they don't have any symptoms of the virus.
This crag is lesser known than Squamish but is quality granite. If you have questions about it, please feel to contact me directly or  join the Fraser Valley Rock Climbing Facebook group where you can find more information there. 
Elbow Lake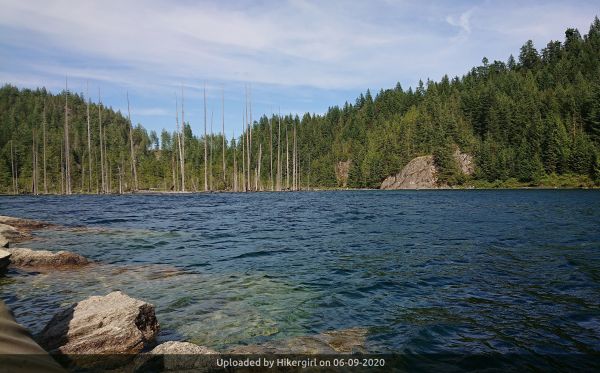 Other trips or events organized by this BCMC member

Top rope climbing at Juniper Point and Arbutus Alley

Top rope climbing at Juniper Point and Arbutus Alley