Name: Chipmunk Mtn -overnight trip
Starts: Sat Sep 12, 2020
Meetup: TBD
Return: Sun Sep 13, 2020
Registration opens: Mon Sep 07, 2020
Event category: Hiking
Difficulty grade: B3 [?]
For members only: No
Screening used: Yes
Max participants: 4
Organizer: michael deacon

Profile info:
1. Please confirm that you have read the BCMC COVID guidelines:
https://bcmc.ca/bcmc/files/BCMCCovidPhase2Guidelines.pdf
2.Please take the self-assessment test and send the results to the organizer (if you answered YES, to any of the questions, please DO NOT JOIN the trip!!!):
https://bc.thrive.health/covid19/en
3. Please confirm you have all the gear listed in the trip details.
4. You should have a car that can make it at least to Pemberton, from where we can carpool in 4x4 and AWD cars...face masks required, of course.
You must login in order to sign up online for one of the BCMC Trips. If you don't have a BCMC membership account then please obtain one.  If you'd prefer to learn more before joining then please join as a 30-day Guest member.   Some trips are BCMC members only.
This is a very underrated area and this would be my first time forey there.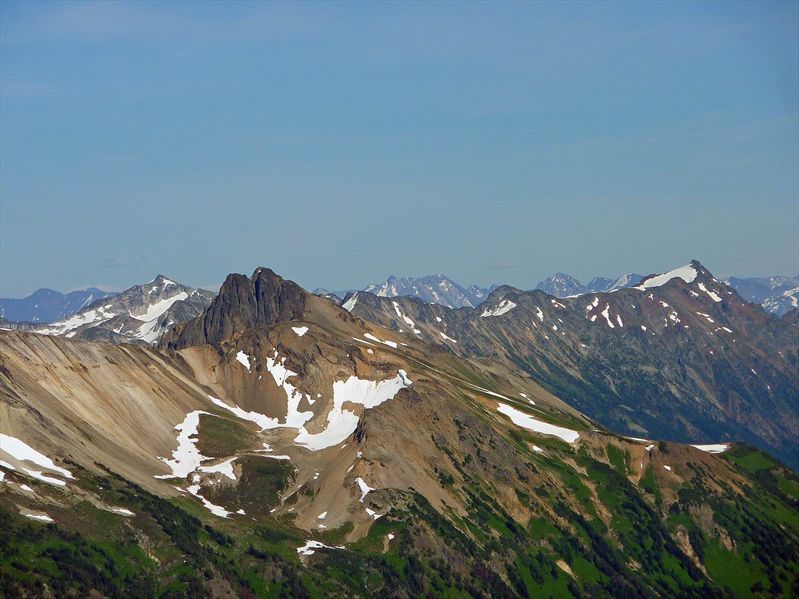 There is some scrambling involved, so a helmet is mandatory. If you are afraid of heights, don't join  the trip:)
A bit of bushwhacking would be required as well, as there is no trail most of the time.
The road should be drivable in any AWD car, last reports I've read don't mention any waterbars on the Hope Creek FSR spur that come off the Hurley FSR.
Please be considerate and do not sign up unless you are 100% committed for the trip and you are in very good physical condition. 
Will be moving at a moderate-fast pace. Not for slow people, sorry.
MUST have :
Food for the whole weekend
First aid kit!
Bear spray
Helmet
Camping equipment
The plan is to drive on Saturday to the trailhead and hike to Opal lake, where we are going to camp for the night(2h from the trailhead). The same day we can go up to Goat Mtn and/or Tenquille Mtn.
Sunday morning, will climb Chipmunk Mtn, then pack our camp and head back to cars/drive home.
Some older trip reports:
https://www.google.com/search?q=Chipmunk+Mountain+bc+trail+hike+site:forums.clubtread.com&safe=off&hl=en&sxsrf=ALeKk02vjtK6Awrwf-VDApmmjBHJwpHGkA:1599494928670&sa=X&ved=2ahUKEwi0jKz4ttfrAhUQsZ4KHdeBBe4QrQIoBHoECAYQBQ&biw=1294&bih=1036
Other trips or events organized by this BCMC member

No comment...a classic local short trip.

Part of the "must-do-every-year" hiking list:)

A very nice intermediate hike with 360 degrees viewes