Name: Denali West Buttress
Starts: Mon May 10, 2021
Meetup: TBC
Return: Sun Jun 06, 2021
Registration opens: Thu Sep 10, 2020
Event category: Expedition
Difficulty grade: D5 [?]
For members only: Yes
Screening used: Yes
Max participants: 2
Organizer: Philippe Lambrette

Profile info:
1. Have you been to Denali or another Alaskan peak before? If so, please summarize.
2. Please summarize your mountaineering/alpine climbing experience (including range, mountain and route)
3. Are you proficient in glacier travel and crevasse rescue?
4. Have you taken a course in glacier travel and crevasse rescue?
5. Are you proficient in assessment of avalanche terrain/snow/conditions?
6. Have you completed AST-1 or higher avalanche training?
7. Please outline your winter camping experience.
8. Please summarize your experience on long (more than 10 days) expedition style trips into remote areas.
9. Please summarize your level of aerobic and anaerobic fitness.
10. You do understand this is an unguided/unsupported expedition you will have to be autonomous.
11. If we can't flight to US, we might attempt Mt Logan instead. Will you be interested?
You must login in order to sign up online for one of the BCMC Trips. If you don't have a BCMC membership account then please obtain one.  If you'd prefer to learn more before joining then please join as a 30-day Guest member.   Some trips are BCMC members only.
***COVID19 Guidelines Compliance:  Participants MUST read and comply with BCMC Guidelines attached in the Trip Planning Forum, confirm both at time of sign up, and day of event  - they have completed the  BC Covid-19 Symptom Self Assessment Tool questionnaire at time of registration. ***
 Mandatory COVID 19 Symptom Self Assessment Tool : https://bc.thrive.health/covid19/en
Once complete, email screen shot to organizer.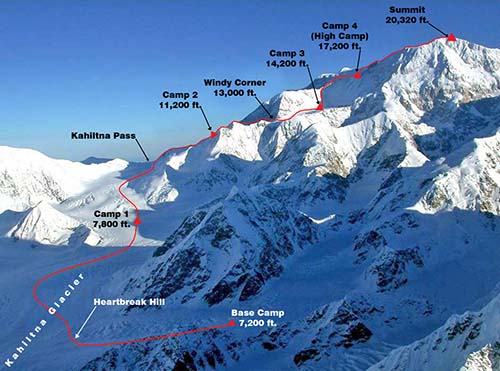 Denali is the highest peak in North America at 6,168m.  The West Buttress (WB) is a moderately technical route involving extensive glacier travel, climbing steep-exposed snow slopes, narrow exposed ridges and extreme cold weather climbing and camping.  A minimum of approximately 2 weeks are required on the mountain with an additional 3-4 days at the start/end depending on logistics and weather while climbing.  
Required skills:
highest level of physical (sub 45min Grouse grind is a start) and mental fitness for strenuous high altitude climbing, extreme weather conditions (extremely cold, windy and high likelihood of multiple snow storms) and high altitude climbing
advanced technical proficiency in glacier travel, mountaineering 
all alpine/mountaineering skills are required, including/especially:

glacier travel, including crevasse rescue (all team members will have to demonstrate proficiency during screening-training outings/practice; BCMC or reputable mountain school glacier travel crevasse rescue course strongly recommended but cannot be substitute for extensive practice)
avalanche terrain/hazard skills/training: BCMC or reputable mountain school AST-1 training strongly recommended (all team members will have to demonstrate proficiency during screening-training outings/practice)
roped alpine climbing on steep snow/glacier slopes and exposed alpine ridges (traditional climbing rope/knot skills and skills such as self-arrest, snow and ice protection/anchors, moving up and down fixed lines, running belays) (all team members will have to demonstrate proficiency during screening-training outings/practice) 

Winter / alpine camping for a prolonged period of time - including the mental challenge of not getting bored when pinned down by weather
Teamwork and positive attitude with a strong emphasis on ONE team.  Will be a focus of screening process, which will include training climbs and practice sessions.
Gear List: will be provided and finalized once the team takes shape as there are various shared items.  Various websites have Denali gear lists, which are good references for required personal items.  We will finalize the shared and personal gear lists as a team. We will most likely use snowshoes and not skis.
If we still can't cross the border, we will attempt Mt Logan. So our training will focus on those 2 climbs.
Other trips or events organized by this BCMC member


Attempt to summit The Copilot via NE gully

Hike the Grouse Grind back by the BCMC