Name: John Baldwin - A Life in the Wild
Starts: Tue Oct 27, 2020
Meetup: Zoom Online Meeting
Return: Tue Oct 27, 2020
Registration opens: Tue Oct 20, 2020
Event category: Other
Difficulty grade: A1 [?]
For members only: No
Screening used: No
Max participants: -
Organizer: Chris Ludwig

Profile info:
You must login in order to sign up online for one of the BCMC Trips. If you don't have a BCMC membership account then please obtain one.  If you'd prefer to learn more before joining then please join as a 30-day Guest member.   Some trips are BCMC members only.
John Baldwin was honoured by the Alpine Club of Canada in October 2019 to be the Patron for the Guides Ball in Banff. His contributions to the mountain communities in Canada were recognized. This honour is significant on its own but of further importance since it is the first time it has been bestowed to a West Coast mountaineer.
Zoom information will be Emailed to participants who sign up for this event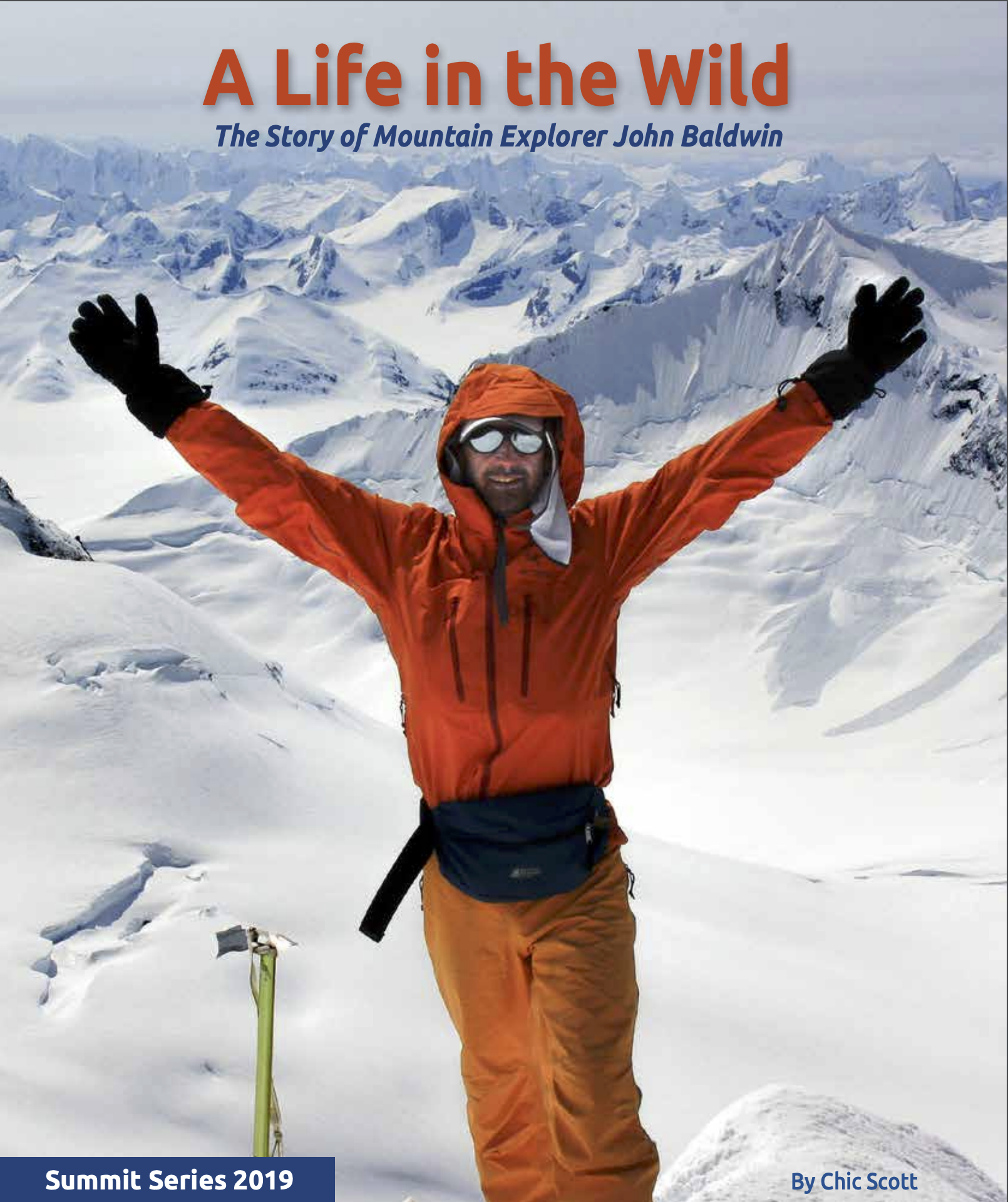 The evening in Banff started with Chic Scott who introduced John like no other, followed by John's wife Linda Bily giving a colourful description with fun and humorous images to pay tribute to John. John gave a well delivered presentation along with visually beautiful images of the West Coast and those of us who were present were proud to witness John receiving this honour. It was also fun to see some familiar faces in the images ( with ACC people, NSR, ACMG, VOC and BCMC!)
Words from Chic Scott:
Known affectionately to his friends as the King of the Coast Range, John Baldwin has spent his life in a quest to experience the west coast wilderness. Since his teenage years he has explored the rugged Coast Mountain Range, climbing 700 peaks, many of them first ascents, and making perhaps one hundred multi-week, long-distance forays across the ice fields and along the ridges of what is one of the last true wilderness areas on earth. Shunning the easy path, John has forged his own way through some of the toughest geography on the planet. He is a mountaineer and explorer of the first order.
link here: Read the full story with a free pdf
John, along with other members of the ACC Vancouver Section, were nominated for various awards in 2019 from Alpine Club of Canada. We will be presenting these awards to the recipients.
Honorary Membership is the highest recognition The Alpine Club of Canada bestows. It is presented to individuals for a strong and sustained commitment to the Canadian mountain environment and Canadian mountaineering.
The Vancouver Section of the Alpine Club of Canada is honoured to host John and Linda to deliver their presentation "A Life in the Wild" to us on Tuesday Oct 27th, 2020 at 7:00pm, by Zoom or similar platform. The link will be sent by email to those signed up closer to the date.
Please join in from the comfort of your home and enjoy a fun evening bringing our community together with other ACC'ers, VOC, NSR, ACMG, and the BCMC.
Other trips or events organized by this BCMC member

Monthly online meeting of the Executive Team plus others helping with special projects.

Monthly online meeting of the Executive Team plus others helping with special projects.

Monthly online meeting of the Executive Team plus others helping with special projects.