| | | |
| --- | --- | --- |
| | | |
| | Trip is cancelled | |
| | | |
Name: Alouette Mountain ski
Starts: Sat Jan 09, 2021
Meetup: Golden Ears park entrance at 7:45 AM
Return: Sat Jan 09, 2021
Registration opens: Thu Jan 07, 2021
Event category: Backcountry Skiing
Difficulty grade: B3 [?]
For members only: Yes
Screening used: Yes
Max participants: 8
Organizer: Paul Kubik

Profile info:
Have you got tree skiing experience? Name one or two of your most advanced tree skiing trips.
No carpooling. Participants need to arrange their own transportation to the parking lot at the Incline Trail. Provide me with you cell phone number. Since we're under a time constraint imposed by the gate hours, we will need to move at a steady pace.
You must login in order to sign up online for one of the BCMC Trips. If you don't have a BCMC membership account then please obtain one.  If you'd prefer to learn more before joining then please join as a 30-day Guest member.   Some trips are BCMC members only.
Exploratory in nature. I haven't done the trip in winter before. I have scouted the route in the last few weeks. We will need to hike for about 1 hour on good trails before reaching snowline. Bring hiking boots and carry your skis and boots. Snow line is probably between 700 and 800 meters.
We will meet at the park entrance to Golden Ears Park at 7:45 AM. The gate opens at 8 AM. It takes about one hour from downtown Vancouver with light traffic to get there. We will park at the Incline Trail parking lot (250 m MSL). It is reached off the Mike Lake road (signed road off the GE parkway about 4 or 5 km from the gate).
We will follow the Incline Trail, the fire road to the Shortcut Trail and back onto the fire road before the Lookout (650 m MSL). We will continue to the end of the fire road (920 m MSL) beyond the helicopter landing area (850 m MSL). There is a short section of second growth that must be crossed beyond the road. There is reportedly a newly cut trail that connects to the Alouette Mountain Trail that may make it easier. From there, we make our way to the summit (1350 m MSL).
The gate closes at 5:30 PM. It is dark around 4:30 PM. We will aim to be back at the parking lot by 4:30 or 4:45.
Suitable trip for intermediate or better skiers. Fitness level must be reasonable but you don't need to be a marathon runner. This is not a trip for beginners or those who cannot ski trees, which may be dense for short sections.
Headlamp required and spare batteries. Avalanche beacons, shovels required. Bring warm clothes.
If people try to contact me, email is necessary. Don't send text messages. I don't receive them. My cell phone number is 604 785-9894. I only use this number during the trip. Otherwise, use my home phone number.
Alouette Mountain trails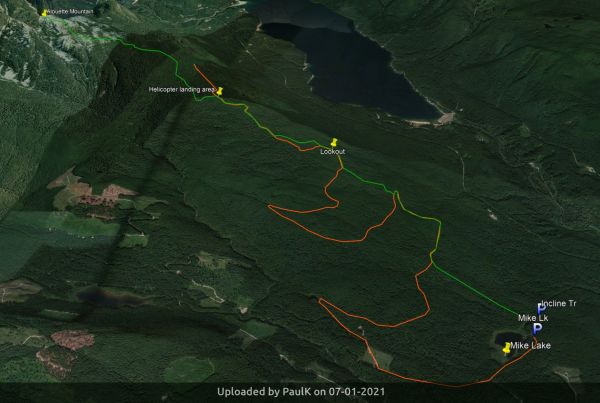 Other trips or events organized by this BCMC member

Ski ascent from near the end of Mamquam FSR

Ski touring off Lightning Lake chain in Manning Park

Ski touring off the Coq. Approach from Britton Creek R.A.