Name: Mount Henning or Flatiron
Starts: Mon Jan 18, 2021
Meetup: Intersection of North Grandview and Penticton Street in East Van at 6:30 AM
Return: Mon Jan 18, 2021
Registration opens: Sat Jan 16, 2021
Event category: Backcountry Skiing
Difficulty grade: B3 [?]
For members only: Yes
Screening used: Yes
Max participants: 8
Organizer: Paul Kubik

Profile info:
If we haven't skied together before: What are some recent ski tours that you've been on? You are aware that Mount Henning trail and area is popular with snowmobilers.
You must login in order to sign up online for one of the BCMC Trips. If you don't have a BCMC membership account then please obtain one.  If you'd prefer to learn more before joining then please join as a 30-day Guest member.   Some trips are BCMC members only.
Mount Henning is reached by a groomed snowmobile trail. It's a lowly bump above Coquihalla Lakes. It looks to be about 5 K and 700 meter vertical to the summit. It seems a reasonable destination for a post-apocalyptic Pineapple Express rain event. Unless there's a good dump of fresh snow before Monday, when we could shred pow up on the Flatiron with slightly less driving.
Suitable trip for intermediate or better skiers. Fitness level must be reasonable but you don't need to be a marathon runner. If you've got limited backcountry skiing experience but can stay upright, this is the trip for you.
Headlamp required and spare batteries. Avalanche beacons, shovels required. Bring warm clothes.
If people try to contact me, email is preferred. Don't send text messages. I don't receive them on my home phone. My cell number is 604 785-9848. It does receive text messages but I only turn it on sporadically during the trip meet up.
The meeting spot in Vancouver is the intersection of North Grandview and Penticton Street in East Van at 6:30 AM. Note that North Grandview is north of Grandview Highway across the railway and Skytrain tracks. If there's people coming from Coquitlam or points east, we'll meet at the Tim Horton's in Sardis at the intersection of Vedder Road with Luckakuck Way, opposite the street from the Husky station at 7:30 to 8:00 AM.
The trailhead for Mount Henning is reached off Exit #228 (Britton Creek rest area). See map. I'll know by Sunday evening if there's a big enough snow dump to make Flatiron enjoyable. Consider Henning the destination unless I communicate otherwise by the forum here.
Henning trailhead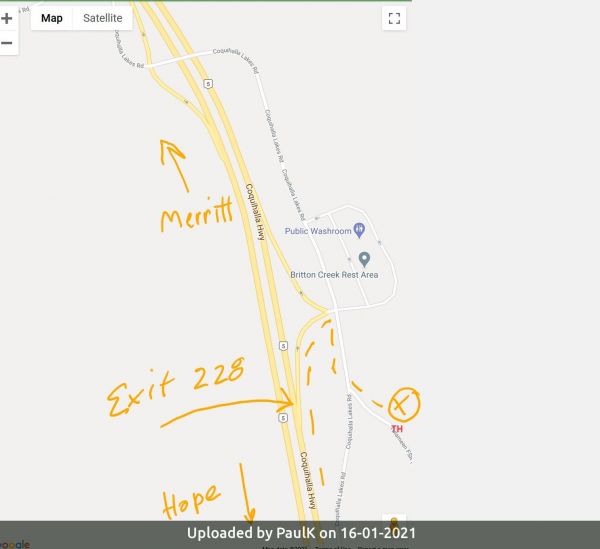 Other trips or events organized by this BCMC member

Protecting a big tree with some cribbing. Preventing shortcuts.

Ski ascent from near the end of Mamquam FSR

Ski touring off Lightning Lake chain in Manning Park