Name: Chief Pascall
Starts: Sun Mar 14, 2021
Meetup: Cerise Creek Parking Lot
Return: Sun Mar 14, 2021
Registration opens: Sun Feb 28, 2021
Event category: Backcountry Skiing
Difficulty grade: B2 [?]
For members only: No
Screening used: Yes
Max participants: 8
Organizer: Marie Amante

Profile info:
What training do you have and when did you take it?
Describe your backcountry experience (How many years of experience, type of ski touring you have done and some areas you have toured recently).
We have 2 options for the day, please indicate which you prefer to help with trip route planning. Ascend to the ridge and couple laps before returning to the car or summit Mount Chief Pascall and ski down the route east of the summit.
You must login in order to sign up online for one of the BCMC Trips. If you don't have a BCMC membership account then please obtain one.  If you'd prefer to learn more before joining then please join as a 30-day Guest member.   Some trips are BCMC members only.
Meet at the Cerise Creek Parking lot for 7:30AM. Day Trip up to Chief Pascall and do a couple laps. Distance return is about 12-13KM with elevation gain of around 1000m. Graded as a B2 but some sections of B3. Expect tight skiing in the trees on the way back to the car. 
This trip is for people with experience backcountry skiing, not suitable for a newbie. This trip is an easy going pace, not charging. Goal is to tour to Chief Pascall Ridge and ski 1-2 laps or summit Mount Chief Pascal and ski down. 
More details to follow in the planning forum. 
complete track from Wayne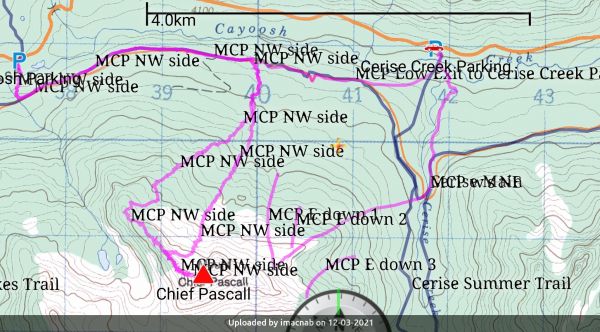 Other trips or events organized by this BCMC member

Ski tour to Wendy Thompson, option to overnight

Tour Musical Bumps to KC Hut Overnight or Day Trip

Ride a T-Bar, Save a Cowboy!