| | | |
| --- | --- | --- |
| | | |
| | Trip is cancelled | |
| | | |
Name: Sigurd Peak
Starts: Sun Mar 14, 2021
Meetup: Alice Lake intersection off Hwy 99 (W side of road) at 6am
Return: Sun Mar 14, 2021
Registration opens: Wed Mar 03, 2021
Event category: Backcountry Skiing
Difficulty grade: C3 [?]
For members only: Yes
Screening used: Yes
Max participants: 4
Organizer: Jordan Polischuk

Profile info:
1. What type of training to you have? AST1, AST2 and/or other courses?
2. Have you had a 20km+/2000m+ day this season? What was it?
3. What is your relative fitness level? Can you maintain a 3-4 km/hr pace ski touring?
4. What is your experience skiing steep slopes (35+ deg)?
5. Do you show any of the Covid-19 symptoms listed on BCCDC website?
You must login in order to sign up online for one of the BCMC Trips. If you don't have a BCMC membership account then please obtain one.  If you'd prefer to learn more before joining then please join as a 30-day Guest member.   Some trips are BCMC members only.
Ever wanted to explore the peaks in the Ashlu valley on skis? Me too! This trip follows Pokosha Cr to the top of Sigurd Peak. Intended route is 25km round trip with 1850m of vertical gain.
Trip for experienced/advanced backcountry skiers capable of doing 25km & 2000m of vert in 10-12 hrs. We can also choose to ski down some N facing bowls with good steep skiing pending snow stability and visibility.
We will start from Ashlu main and drive up to as far as our vehicles allow (either stopped by snow or the old mine bridge washout). From there, we will hike along Ashlu Main (450m) until we reach branch A610 and then head up that until we reach snow (probably around 500 - 600 m). There is an unknown amount of brush on this route so I will be bringing a light saw to clear out thick patches if need be. Skis on until we reach the end of A610 and then we will continue up the Pokosha Cr valley to 1150m where we can pick up a ridge and follow that up to Sigurd lake. From there its a straightforward route to the top of Siguard Peak.
Link to route: https://www.gaiagps.com/public/3ZHViMeClmFl46zxQiEw1bY5
We will meet in the morning at the Alice Lake intersection off Hwy 99 (W side of road) at 6am and then head out together to the start of the trail. HC AWD w/ chains recommended, no carpooling.
Gear Required:
Beacon, Shovel, Probe (& know how to use them)
Headlamp
Ski touring or splitboard gear
Navigation (gps, phone, map)
First aid & repair kit
Sigurd N Bowl - Dec 2020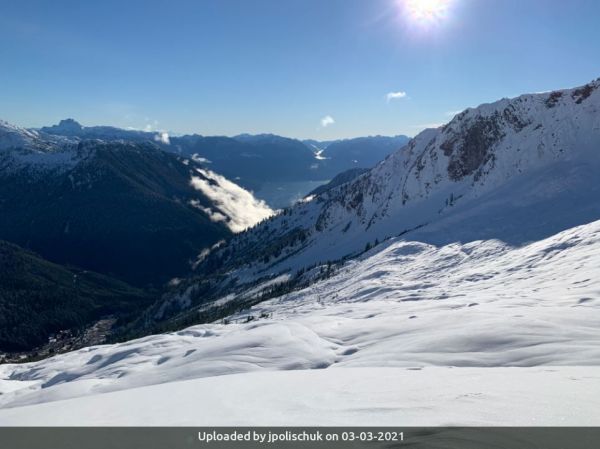 Other trips or events organized by this BCMC member
| | | |
| --- | --- | --- |
| | | |
| | Empty | |
| | | |