Name: Mt Skook Jim, Caltha, & remote peaks near the Stein
Starts: Sat Jul 24, 2021
Meetup: tbd
Return: Tue Jul 27, 2021
Registration opens: Tue Jul 06, 2021
Event category: Expedition
Difficulty grade: C3 [?]
For members only: No
Screening used: Yes
Max participants: 5
Organizer: Dean Chamberland

Profile info:
a) Any preference for 3, 4, or 5 days?
b) Are you familiar and up to date with your crevasse rescue skills?
c) Can you make the $600 financial commitment prior to the trip?
d) What destinations are of most interest to you?
You must login in order to sign up online for one of the BCMC Trips. If you don't have a BCMC membership account then please obtain one.  If you'd prefer to learn more before joining then please join as a 30-day Guest member.   Some trips are BCMC members only.
I'm organizing another heli-hike charter with Blackcomb Helicopters to get into a remote alpine area that we'd otherwise not explore. The plan is to fly in from their Pemberton airbase on Saturday morning, July 24, and fly out Tuesday afternoon.
We would be dropped off just outside the western boundary of Stein Valley Park; specifically, an alpine spot south of Caltha Peak, near Figure Eight Lake.
I was in this area for 4 days two yrs ago and it's simply breathtaking. There is so much more there to explore and rather than spend 2-3 days on the trail (the hike in/out on the long, over grown road from Lizzie Lake is as mind-numbing as it is muddy), spending some vacation money buys us hiking and scrambling time almost exclusively in the alpine, ease of access, and the privilege to bring gear, food and drink not normally possible.
Make no mistake, you'll still be busting your ass every day - there's a lot of elevation to be gained - however we'll be doing it efficiently and being rewarded with elevation and views. With this being an economically=placed camp, we'll be able to go at a moderate pace - no need to rush and beat traffic. We'll also be above the tree and hopefully bug line the majority of the time. This will be similar to some past BCMC summer camps in that respect (Overseer, Lake Lovely Water...), but several days shorter.
While we can stick to scrambles or hikes, I'd bring some basic glacier crossing gear (helmet, crampons, ice axe, harness) if you want to get up beyond Skook Jim. I don't expect anything too technical, but there should be some pocket-glacier travel needed over moderate inclines. Since we are flying in & out, go crazy with weight, gear, fresh food... I'm not saying to 'glamp' per se, but you wouldn't be judged if you bring a watermelon, 'refreshments', boil-in-bag curries, a guitar and chairs
I spoke recently with Christina W. who did the same trip last year and her insights are very encouraging: Skook Jim was straight forward with minimal time on concave glacier (pocket glacier) near the top that was not too steep. Good intel on bagging other easy peaks nearby too. They used the same campsite I'm proposing as their drop off/pick up.
Agenda of the trip is flexible as well as the goals. Nearby peaks range from easy ridgelines to technical glaciated terrain. My proposed (and open to input) itinerary:
Saturday: Caltha, Tundra Peaks (did Tundra last year - amazing views)
Sunday: Mt Skook Jim 
Monday: Pyramid Peak and part cross into the Stein Valley trail
Tuesday: Mt Cline 
Confirmed cost: $600 pp All-In (max) for the flight in and pick up flight out (assuming a full load of 5 people)  
Target Area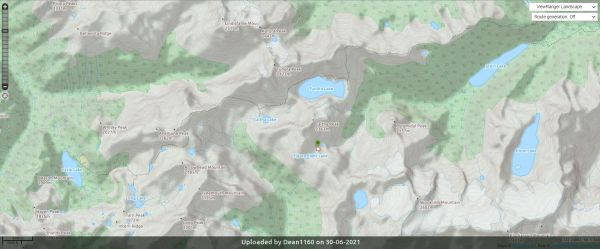 Other trips or events organized by this BCMC member

Friday night car camp ahead of 3 days of hiking up one of the taller peaks in SW BC

Non-technical day hike with minor scrambling past D'Arcy. Friday night car camp

Day trip up the prominent peak.