Name: Whitecap Mountain (Sept long weekend)
Starts: Fri Sep 03, 2021
Meetup: St. Davids church 5 PM Friday
Return: Mon Sep 06, 2021
Registration opens: Sun Aug 22, 2021
Event category: Scrambling
Difficulty grade: C3 [?]
For members only: No
Screening used: Yes
Max participants: 6
Organizer: Dean Chamberland

Profile info:
- If we haven't been out together before, please share some similar recent trips you've done.
- What's your transport situation? Do you have a 4x4 and can you take 2 passengers?
You must login in order to sign up online for one of the BCMC Trips. If you don't have a BCMC membership account then please obtain one.  If you'd prefer to learn more before joining then please join as a 30-day Guest member.   Some trips are BCMC members only.
TRIP IS FULL. ATTENDANCE CAPPED DUE TO LOGISTICS. Thank you
This trip replaces a Skihist trip (postponed to next summer), and will be about as long but without the major bushwhacking. We'll need a capable 4x4 (ideally 2) to access the FSR as far up as possible. Access will be via Bralorne, turning off the Hurley as we get to Gold Bridge, then doubling back (better road conditions vs the shorter, slower alternative). Hopefully we can drive to the end of the access road by Bralorne Friday night and car camp. We should be back in the city Monday night (a holiday). I estimate a round trip of roughly 30 kms, assuming road access similar to last summer. Cumulative gain is over 2,000m.
Forecast appears good at the moment, and we should be able to summit Mt McGillivray too. Recommend we have a min group size of 4, with 6 or possibly more working too. Everyone should bring bear spray as a precaution.

Good trip report here (there are other great ones online too): http://www.cohp.org/prominence/descriptions/Canada/Whitecap_Mountain.html
GPX of route available via email, trip forum, or Viewranger.com.
If joining, please ensure you're prepared and equipped with the right knowledge on the route, and with the appropriate gear to complete the trip.
Participants should be:
a team player ready and willing to contribute to a successful trip and a fun group experience. 
experienced, capable, and well-equipped for backcountry travel.  
in excellent physical condition and can finish the Grind or 10 km run in roughly 60 mins or less
ready to carry a heavy overnight pack up through the occasional bog, uphill & sidehill, and off-trail over 3 days at a brisk pace (there's a lot of terrain to cover)
able to Lead the trip; Please do the research; if only, at the very least, for your own safety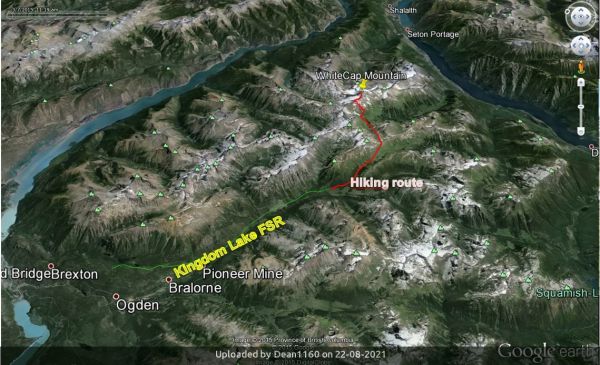 Other trips or events organized by this BCMC member

Helicopter in (& out) to Caltha Pk area (outside Park boundary)

Non-technical day hike with minor scrambling past D'Arcy. Friday night car camp

Day trip up the prominent peak.