Name: kayaking Haida Gwaii islands
Starts: Wed Aug 03, 2022
Return: Fri Aug 19, 2022
Registration opens: Sat Jun 18, 2022
Event category: Hiking
Difficulty grade: C3 [?]
For members only: No
Screening used: Yes
Max participants: 8
Organizer: Christopher Barton

Profile info:
What relevant experience do you have? Do you have a sea kayak or access to one? Can you make the short or long trip version? Do you have a suitable vehicle and - if it should be needed - how many kayaks/people do you think you could transport?
You must login in order to sign up online for one of the BCMC Trips. If you don't have a BCMC membership account then please obtain one.  If you'd prefer to learn more before joining then please join as a 30-day Guest member.   Some trips are BCMC members only.
ONLY FOR STRONG, EXPERIENCED SEA KAYAKERS. Haida Gwaii is considered suitable for intermediate to advanced paddlers only. You are almost in Alaska. It is extremely remote and conditions can change rapidly. Big tides, strong currents, wind, rain and fog. Some days we will be paddling 25km or more.
The trip is planned with two options:
17 days: drive up Vancouver Island + Inside Passage ferry to Prince Rupert, drive back down through interior.
9 days: fly up Friday afternoon or Saturday morning (5th or 6th) to Haida Gwaii and fly back the next Sunday afternoon (14th), so one week and two weekends.
The plan is to launch kayaks from Moresby Camp on Haida Gwaii the first Saturday, head around the outside of Louisa Island if weather is good, (if bad travel inside route) with eventual target of G̱andll K'in Gwaay.yaay (Hotsprings Island) in Gwaii Haanas Park. Return alternate route (inside or outside route - obviously dependent on weather and sea conditions) to Moresby Camp. Hopefully 9 days total paddling.
For non-flyers, the plan is ferry back to Prince Rupert on the mainland and spend 4/5 days driving/bush camping back through interior to Vancouver with side trips along the way (around Terrace, Hazelton, Smithers - maybe up to Stewart).
Gwaii Haanas map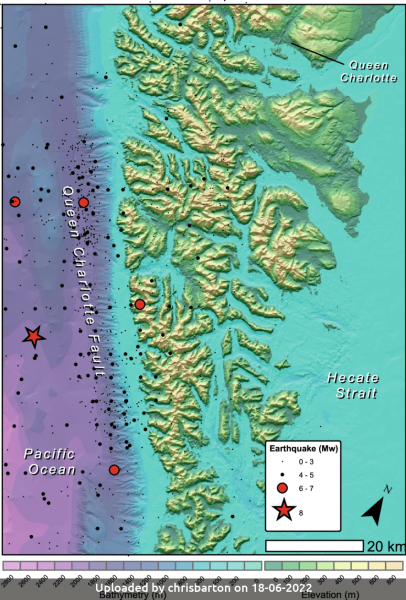 Other trips or events organized by this BCMC member

Hiking/scrambling around Little Ring Peak and to the Pemberton Icefield.

recce on best trail route from Squamish Headwaters to Pemberton Icefield

daytrip - clearing/planning trail from Squamish Headwaters to Pemberton Icefield