| | | |
| --- | --- | --- |
| | | |
| | Trip is private | |
| | | |
Name: Snowzone – Channel Creek - Easter weekend camping
Starts: Fri Apr 07, 2023
Return: Sun Apr 09, 2023
Registration opens: Sun Mar 12, 2023
Event category: Backcountry Skiing
Difficulty grade: B3 [?]
For members only: Yes
Screening used: Yes
Max participants: 6
Organizer: Michael Deacon

Profile info:
1. Do you have more than 20 days of backcountry skiing experience?
2. How many people can you drive(winter tires are mandatory on the HWY).
3. How many winter camping trips have you done in the past?
4. What is your goal for the trip? Peak-bagging, lots of steep ski turns, easy going skiing..etc
You must login in order to sign up online for one of the BCMC Trips. If you don't have a BCMC membership account then please obtain one.  If you'd prefer to learn more before joining then please join as a 30-day Guest member.   Some trips are BCMC members only.
***If you have never skied with me, you MUST contact me before signing up***
You must be open for a plan B, in case the forecast for this area is not very good: Callaghan area, for example.
I have tried to go in this area for many years, so let's see if this year the weather works in our favor:)
An amazingly huge area that barely gets any traffic due to the long approach from Vancouver.
Please read the info provided by those 2 links and do your research before signing up.
https://www.ubc-voc.com/2012/03/30/snowzone-channel-creek-march-24-25
http://www.alpinebaking.com/2012/03/channel-creek-snow-zone.html
The rough plan(final details will be done in a planning zoom meeting with the trip participants):
Friday April 7th: Carpool to the Blowdown parking lot and go to the camping spot( there is a frozen lake in the area, very well protected). Ski some mellow slopes to assess the snow conditions.
Saturday April 8th: Ski Eeyore/Tiger peak areas...
Sunday April 9th: do some more skiing in the AM, then pack and leave after lunch. Drive back to Vancouver.
Monday April 10th: extend the trip by another day if there are enough willing people:)
Winter camping experience is required. 
Will coordinate in the forum any tent/gear sharing.
Please be considerate and do NOT sign up unless you are 100% committed for the trip and you are at least an intermediate skier(can do black runs in any conditions, including trees) in the Backcountry. If in doubt about your capabilities send me a message and we can talk about it:).  Minimum of 20 days of backcountry skiing experience is required top join this trip.
Will be moving at a moderate-fast pace. Not for slow people, sorry.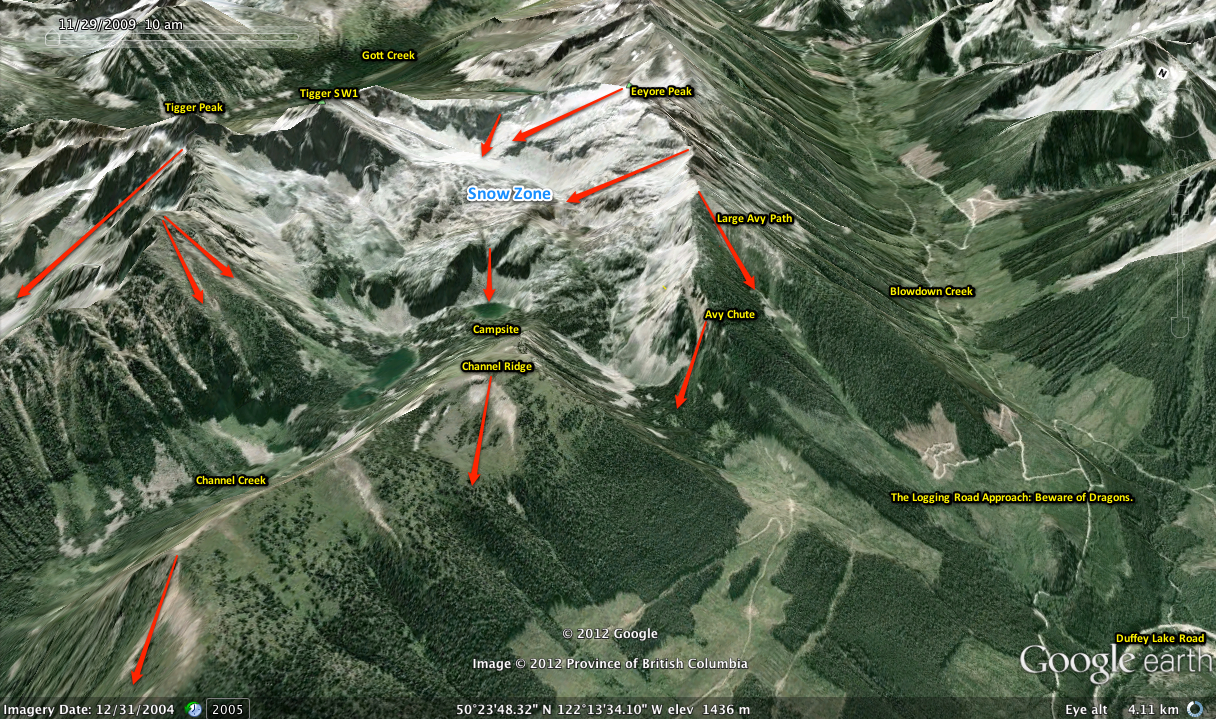 AST1 training
Shovel, probe and avi beacon
Winter camping gear
Other trips or events organized by this BCMC member

Deep into the Duffey- 2 nights Winter Camping

A longer approach but worth it:)

Another classic that needs to be done every year..