Name: Mt. Harvey - North Ramp
Starts: Sun Mar 10, 2013
Meetup: 1) New West Skytrain Station 2) Church
Return: Sun Mar 10, 2013
Registration opens: Sun Mar 03, 2013
Event category: Mountaineering
Difficulty grade: C4 [?]
For members only: Yes
Screening used: Yes
Max participants: 2
Organizer: Serguei Okountsev

Profile info:
IF YOU WANT TO RECEIVE A RESPONSE please answer these questions:
* Date and route number of at least one completed PD+ ice/snow trip (or harder) from the alpine select list http://goo.gl/8j8qb.
* Date of your most recent avalanche rescue response practice
* Do you need carpool?
* Specify meeting location you can come to (from the list)
* Fill "Shared Gear" form http://goo.gl/vQLzO
You must login in order to sign up online for one of the BCMC Trips. If you don't have a BCMC membership account then please obtain one.  If you'd prefer to learn more before joining then please join as a 30-day Guest member.   Some trips are BCMC members only.
Skills: Basic mountaineering training. Must have completed at least one PD+ ice/snow route from Alpine Select List.
Personal Gear: Avalanche beacon, snow shovel, probe. Snowshoes. Pair of ice tools(hammer + adze), steel (no aluminum!) crampons, helmet, climbing harness, 60m 8mm half rope, 2+ ice screws, rescue pulley, ascender (tibloc or jumar), rappel / anchor material, 2+ snow pickets (one short, one long) with runners attached, min. 2 5mm prusiks, minimal rock protection set if you have(cams ok, but passive pro preferred), personal emergency kit (head lamp with spare batteries, medical, PLB/SPOT/GPS if you have).
Safety Levels
POP (probability of precipitation) < 40%
Avalanche Danger: Moderate
Weather forecast: http://goo.gl/LWSM7
Avalanche Forecast: http://www.avalanche.ca/cac/bulletins/latest/north-shore
*if minimum safety levels are not met, the trip will be canceled, last minute cancellations do occur.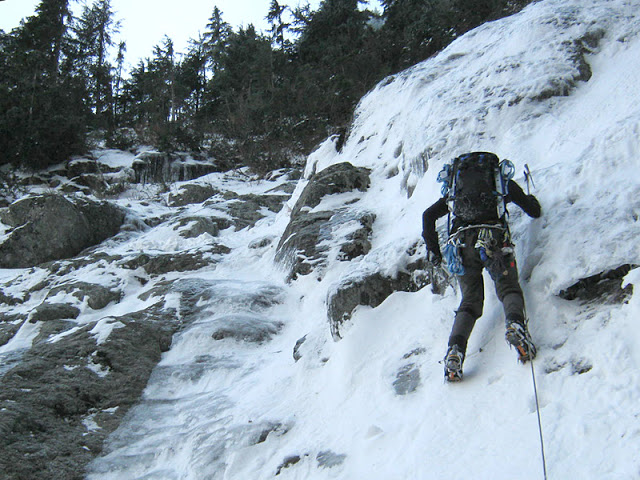 Other trips or events organized by this BCMC member

Mastering the fundamentals of modern alpinism

Climbing Top Ten U.S. State Highpoints: Washington

Climbing 14,000-foot peaks of sunny California