21.03.2012 (3791 Days Ago)

Socials
| | | | |
| --- | --- | --- | --- |
| News Title | | BCMC Social - April 10, 2012 | |
Other News in this Category

Next Social: November 13, 2012. 7:30pm - Venue: ANZA Club at 3 West 8th Ave.
Next Social:  April 10, 2012. 7:30pm
(back to the 2nd Tue of the month!)
Venue: ANZA Club at 3 West 8th Ave.

Adam Palmer will present slides from a 14 days expedition into the Stave Glacier area crossing from North Harrison Lake to the Upper Pitt River in Aug. 2011.

Adam was introduced to the mountains of BC as a teenager on a 10 day trek through the Stein Valley organized by his high school. On a trip to the Sky Pilot area a few months later he became thoroughly addicted to the local mountains. Many adventures followed, pushing ever further into remote areas of Southwest BC's vast mountainous terrain. No trip to the Himalayas or Patagonia for him when he can sit out a wicked storm with survival anxiety in a base-camp only a few hours from home.

Adam is currently a Community Youth Justice Worker in Agassiz-Harrison. Working with the RCMP, MCFD, and the School District, Adam is helping to implement a National Crime Prevention Strategy that focuses on providing recreational activities for at-risk youth. He loves introducing youth to the local mountains on day and sometimes multi-day adventures. Adam is also an active member of Kent-Harrison Search and Rescue and a personal trainer focusing on mountain training for elite athletes.
Adam Palmer on Stave Glacier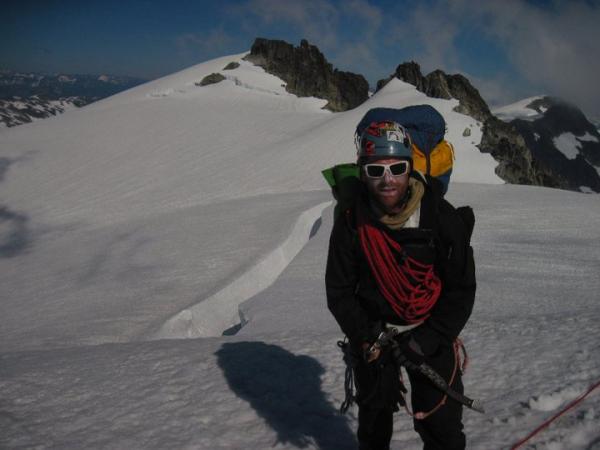 There are no comments yet