19.07.2013 (2072 Days Ago)

Day Hikes
| | | | |
| --- | --- | --- | --- |
| Preparation Time | | 20 mins | |
| Serves | | 4 | |
| Calories | | depends | |
No-Bake Almond Hazelnut Granola Bars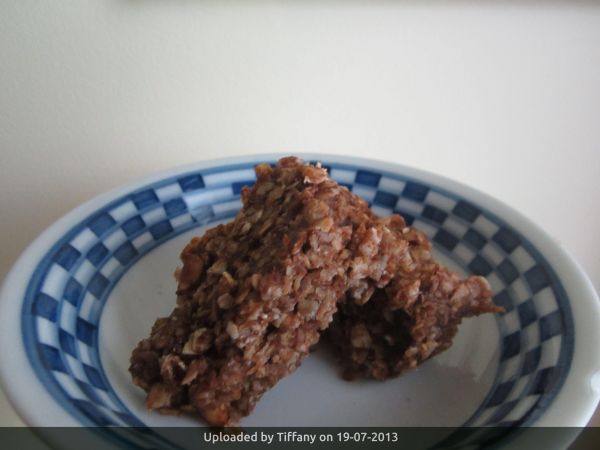 No-Bake Almond Hazelnut Granola Bars
Is it just me, or are granola bars expensive these days? I found it's way cheaper and more fun to make your own. You can make this recipe with other spreads as well, such as peanut butter, cashew butter, or sunflower butter. You can also halve this recipe to make a smaller batch using a loaf pan instead of a square pan.
Ingredients

1 cup almond butter
¼ cup honey
½ cup water
2 ½ cups rolled oats
¼ cup unsweetened cocoa powder
¼ cup chopped hazelnuts
Other flavor options:

You can switch out almond butter for crunchy peanut butter, cashew butter, sunflower seed butter, or other nut butters.

You can swap hazelnuts for almonds, walnuts, cashews, or other nuts of your choice.
Other optional add-ins include carob chips, chocolate chips, dried blueberries, shredded coconut, flax seeds, pumpkin seeds, and raisins.

Melt the almond butter and honey together in a small saucepan.

Line a 9"x9" square pan with foil, plastic wrap, or parchment paper, all the way up the edges. Mix the rest of the ingredients together, stirring in the almond butter and honey. Press the mixture into the pan with the back of a spoon.
Refrigerate for at least 1 hour, then lift it out of the pan and peel off the foil. Cut into bars or squares. Voila!
Check out more of my recipes at www.EasyHikingRecipes.com, and my Amazon Kindle recipe book here: http://amzn.to/1aTSpaO
There are no comments yet