Mountain Lake
Book the Mountain Lake Hut - Automated Booking System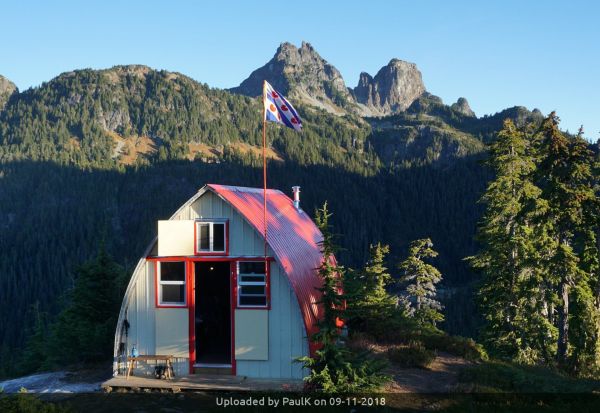 No vehicle access to trailhead on Furry Creek FSR. Access road is gated at Sea to Sky Highway. Access on foot or bicycle only. 17.5 km from highway to hut (11 km of good road to trail head). Elevation gain 1400 meters. Allow a full day.
Access up Britannia FSR is not allowed under any circumstance.
Map of access options: Mountain Lake Access Map

New 2021: Summer access from Sea to Sky Gondola via col between Goat Ridge and Copilot Mountain. Class 3 descent from col to south side of Sky Pilot Mountain. New trail traverses the rock slide then follow ridge past Mount Sheer to Mountain Lake. About 16 km from gondola top station to hut. Elevation gain 1700 meters. Allow a full day.
Member discount

:
BCMC Members Click Here to obtain a promo code for the Automated System to be used a the time of checkout.

You only have the opportunity to use this at the time of checkout.
Additional information: Maps, access and the propane heater system Click Here

Attention/Warning: Once your reservation is in your shopping cart, a one-day reservation will show the same date for First Night and Last Night. Before paying, verify the charges before paying. If it looks too high, empty the cart and start over.
Mountain Lake Hut and Availability Calendar