CONSERVATION BEGINS HERE
Free outdoor summer adventure for youth!

Are you an adventurer at heart? Have you wondered what living in the wilderness would be like? Do you enjoy hiking long distances? Are you 15 to 19 years old? If so, we have an amazing opportunity
for YOU.

Spend the summer living and working at North Cascades National Park and E.C. Manning Provincial Park. For 35 days, you will be camping with 8 other peers, building and maintaining trails amongst the lush green of the mountains and the cool blue of North Cascade's glacial lakes. Earn service hours, build leadership skills, practice outdoor living skills, and make new friends!

Crews will be working in North Cascades National Park and E.C. Manning Provincial Park throughout the summer, from July 18th, 2016 to August 21st, 2016.
No experience is necessary and ALL expenses are paid.  Participants can also earn a minimum of 100 community service hours.

For more information, check out:
http://www.thesca.org/serve/youth-programs/regional-crews

To apply, use promo code PO-00695767 in your application.

Please contact SCA Northwest Recruiter, Dana Wu, if you have any questions – dwu@thesca.org or 206-496-1293.

This long-standing program, offered by our SCA friends, is highly recommended by Hope Mountain Centre.
Youth Camp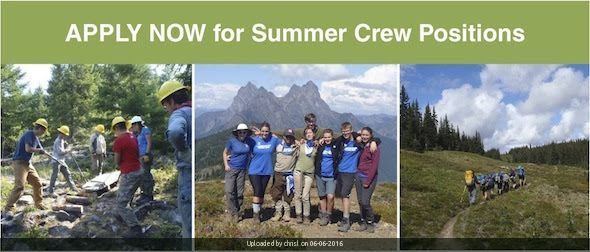 There are no comments yet