10.12.2012 (3492 Days Ago)

Notices

programs skiing intro beginner
| | | | |
| --- | --- | --- | --- |
| News Title | | BCMC Intro to Backcountry Skiing Days | |
Other News in this Category
December 30 Intro Day
https://bcmc.ca/m/events/view/1355028532
January 5 Intro Day
https://bcmc.ca/m/events/view/1355028532
January 26 Intro Day
https://bcmc.ca/m/events/view/1355027390
Program Objectives:
This trip is an introductory course for those who have never skied outside a resort but would like to pick up backcountry skiing this winter. If you are a beginner-intermediate skier who can ski most 'blue' (intermediate) runs in bounds and want to try backcountry skiing, this trip is for you.
This is not an avalanche course and no previous avalanche training is required. Your next step after taking this course is to take the AST-1 avalanche course.
What you will learn:
Ski gear and how to use it (bindings heel lift, boots up-down mode, extendable poles)
Taking care of your climbing skins
How to dress to stay comfortable
Beacon check and basics of winter safety
Skin up technique
Introduction to steep skinning technique
Basic avalanche safety considerations
Staying found and sound
Any other questions that you may have
What to bring:
Backcountry skis (with AT or telemark binding)
Compatible ski boots
Climbing skins
Ski poles
Avi gear – a beacon (check the batteries!), shovel and a probe
- All of the above can be rented from MEC
Warm layered clothes system: thermal underwear, thin fleece, thicker fleece/pile
A water-resistant & windproof jacket & overpants
A warm puffy jacket
Two pairs of gloves, one pair should be mittens (bring hot shot packs if your hands are always cold)
Lunch, plus some snacks and drink for one day
A small Thermos with hot drink is recommended
Blister care supplies if you are prone to blisters
Transportation: we will car-pool from the meeting location. Participants will cover the car-pooling costs.
After completing this course you should have the confidence to join us on day trips in simple terrain such as Black Tusk Meadows and Three Brothers Mtn which we specifically organize for graduates from the Introduction to Backcountry Skiing day program.
However, if you would like to take your backcountry skiing further this year, we recommend that you also take Advanced Backcountry Skiing course in February (1 weekend) and Intro to Ski Mountaineering in March – both coming up and to be announced soon.
Please note that all these courses are for members-only but we do hope that you join and enjoy many other ski trips and winter courses that our club has to offer.
skiing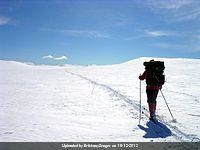 There are no comments yet