26.10.2017 (1711 Days Ago)

Notices

writing contest
2018 mountaineer
| | | | |
| --- | --- | --- | --- |
| News Title | | BCMC Writing Contest | |
Other News in this Category
BCMC Writing Contest - 2018 BCMC Mountaineer
 
The BCMC is excited to announce a trip-report/writing contest open to all members!

Do you have something to say? Did you have an exciting trip, close call, amazing adventure or funny incident? An amusing anecdote or development to report? We're listening!

Dates:
The contest will be held once each season for the next year.
Fall: October 10 – December 31
Winter: January 1 – March 31
Spring: April 1 – June 30
Summer: July 1 – September 30
 
Prizes:
Each season, the winner will be awarded a cash prize of $75.00 and have their work featured both digitally in the e-News and printed in the BC Mountaineer 2018. All entries will also be eligible for publication in the BC Mountaineer 2018. Judgment will be based upon quality of submission, creativity, and value of the contribution to the BCMC and the 2018 BC Mountaineer.

Writing Contest Rules:
1.     Submissions must use writing, but can be supplemented by additional media which can be printed, such as drawings and photographs.
2.     Submissions should be approximately 1 – 5 pages in length.
3.     Submissions must be connected to outdoor recreation and adventure in BC.
4.     Each submission must be titled.
5.     Trip report submissions must include an abstract listing: where and when the trip happened, who participated, and what (if any) route, summit, or objective was attempted.
6.     All genres and forms are accepted and encouraged. We want to hear about the adventures and thoughts that our members are having!

Please send any submissions or questions to bcmc.editor@gmail.com
Thank you and Good Luck!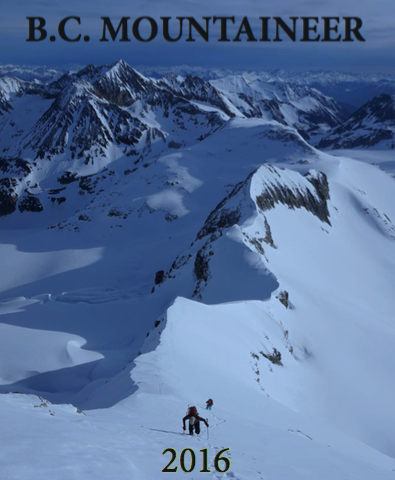 2016 Mountaineer Cover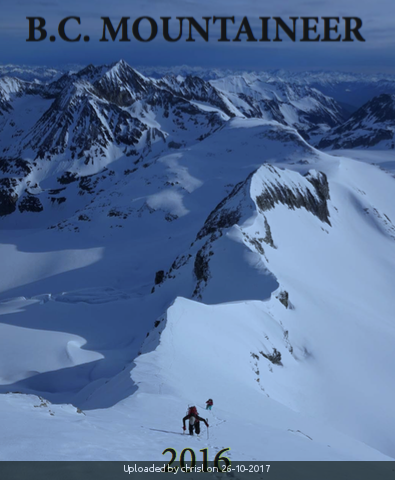 There are no comments yet