06.05.2018 (2045 Days Ago)

Notices
| | | | |
| --- | --- | --- | --- |
| News Title | | BCMC launches the BackcountryBC Website | |
Other News in this Category
CLUB LAUNCHES PLATFORM FOR B.C. BACKCOUNTRY ADVOCACY
VANCOUVER, British Columbia, May 2, 2018 -- The British Columbia Mountaineering Club (BCMC) is proud to launch the BackcountryBC website, British Columbia's first grassroots provincial advocacy platform for non-motorized backcountry recreation and conservation.
"We believe that the public has a right to access the wild areas of our province without obstruction by commercial operations or government agencies," says Chris Ludwig, creator of BackcountryBC and BCMC vice president. "We are thrilled to offer a new platform that gives people a say about what happens in their own backyards."
The platform is a free online space for backcountry users to discuss issues, and advocate for improved access, more and better trails, and stronger protection for wilderness areas. It is a virtual library for provincial documents and includes a provincial trail database, GPS coordinates, and trip planning tools.
"Spaces like BackcountryBC are important because they create an open place for all of us to have a dialogue and come together to create a shared vision for the use and protection of our backcountry," says Julian DeSchutter, Chasing Sunrise co-founder.
"This dialogue is important because it makes sure that we are thinking about our wilderness both for today's use and for future generation's use. The backcountry has many stakeholders and done right, I believe Backcountry BC can create a positive space to bring those interests to the table properly."
Built and maintained entirely by volunteers, BackcountryBC welcomes all opinions and only asks that contributors are forthcoming with their identity when interacting with this online community as to encourage meaningful dialogue and real outcomes.
"The province has needed an open advocacy platform for a very long time, so this marks a promising new chapter for backcountry advocacy in B.C. that we are proud to be a part of," says Ludwig.
To experience the new platform, visit www.BackcountryBC.ca.
###

About us
BCMC is one of the oldest clubs in British Columbia with over 100 years of tradition. Since its establishment in 1907, our members have blazed new routes, made first ascents and explored corners of the Coast Mountains and beyond.
In 2017 the BCMC reached a milestone of 1000 active member accounts. Our club activities include hiking, backpacking, climbing, mountaineering, and backcountry skiing. We focus on offering trips and courses throughout the year that range from easy hikes to technical climbs.
Contact
For more information on BackcountryBC, or to schedule a media interview please contact:
Verity King, Director of Communications (volunteer) e: verityconrad@gmail.com
c: +1 (281) 777-2759
BCMC lunches the BackcountryBC Website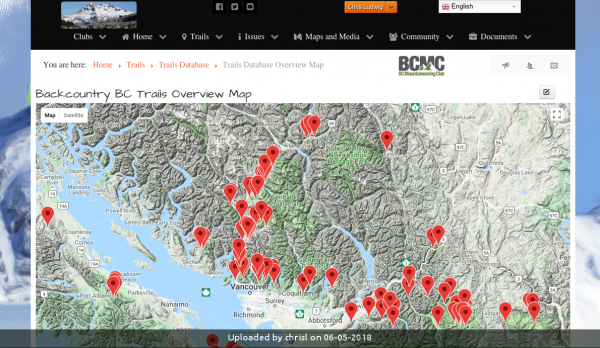 There are no comments yet