24.07.2013 (3266 Days Ago)

Notices

inmemoriam almerling bcmc
| | | | |
| --- | --- | --- | --- |
| News Title | | Peter Almerling - In Memoriam | |
Other News in this Category
Peter Almerling joined the BCMC in 2012, joining the ACC around the same time, he quickly became involved in club activities, participating in club trips and organizing outings. He was a doting father to three kids and dedicated in his professional life as a successful businessman and accountant. His goals in joining the BCMC included plans to climb Denali.

He made an impression on any club member who met him, with his positive, calm demeanor. One member recounts meeting Peter and his daughter at the Richmond Oval Climbing wall. Peter was at ease, happy to just belay and foster his daughter's love of climbing. Referring to children, he quipped that with "three children you may as well have five, that regular cars can't hold 5 people and that could only mean one thing: minivan!"

Another club member recounts meeting Peter, "I first met Peter at an outdoor basic climbing course with the BCMC in June. His enthusiasm, passion and zeal for the outdoors shone through from the moment you met him. He was also a great teacher. I learned so much from Peter in those few trips I spent with him. From food to gear and back to olive oil." Another person noted, "... one thing I saw in him is he had the ability to bring people in. He was very tolerant and patient and forgiving. I think those are really special qualities and even though I barely knew him, it was very clear he possessed them."

His professional background shined through in his preparation: "[Peter] mentioned he was an accountant, a numbers and logic guy and I noticed how this translated into his preparation for the trip (meticulous gear packing)."

Peter frequently left an impression on the people that met him, one member recounts: "A week before [the trip], I organized a night ski 'get together' for participants. Peter and one other member showed up and we did a couple of laps up Seymour.  We talked about everything... skiing, kids, business, and mutual acquaintances.  Since Peter was a successful businessman and entrepreneur,  I found our conversation especially interesting. After the ski, we had a beer together. We talked mostly about mountains and stuff.  Peter wanted to climb Denali next year and was going do some training.  When Peter left, the two of us that stayed turned to each other and said simultaneously "what a nice guy"."

On the weekend ski trip that was Peter's last, he summited Mt Rainier. One fellow trip participant noted, "he was really happy to be on the trip and boy was he happy to have gotten to the summit". On the ski descent, Peter caught an edge, and was unable to arrest. Valiant rescue efforts were made by fellow BCMC members and climbing rangers were able to air lift him off the mountain the same day. Peter never woke up from the traumatic injuries suffered in his fall. He went on to save other lives as an organ donor. He will be remembered within the mountaineering community for his friendliness, warmth and passion.

Peter is survived by his wife, Estelle and three children Alyssa, 11, Sofia, 9, and Aidan, 3.

Deon Molloy, a joint ACC-BCMC member, has setup a "Donations Account" at TD for people wishing making an anonymous donation to Peter's family. Anyone can now make a donation at any TD Canada Trust branch, so feel free to pass the information on and get other people to contribute. As Deon says, "our community, as small as we may seem, is capable of big things, more selfless than our personal objectives".
The account is:
Branch # 91940
Account # 5242657
Name - Peter Almerling Fundraiser

His memorial will be held this Saturday, July 27th in North Vancouver:
Memorial Mass, 11:30 a.m., St. Pius X Church, 1150 Seymour Rd, North Vancouver.
Reception to follow, 12:30 p.m., Deep Cove Yacht Club, 4420 Gallant Ave, North Vancouver.
Peter Almerling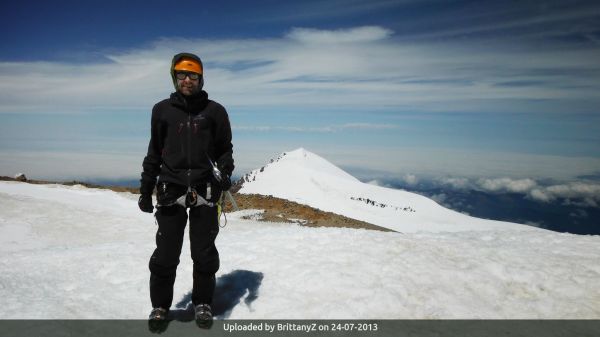 PaulO wrote 3261 Days Ago (

neutral

)

0

I went to the Celebration of Life service with a few other BCMC members. Peter had an amazing life and he will be dearly missed by many.