25.04.2014 (2991 Days Ago)

Notices

ravil everest
| | | | |
| --- | --- | --- | --- |
| News Title | | Ravil on Mt Everest | |
Other News in this Category
From April 23, 2014, Ravil reports from 5800m:
Today is my first rest day on the mountain. It's also the first time I had a chance to take a bath in a public bath tent.  I have time for more stories now.
The tragic accident that happened on the Everest South side so far hasn't directly affected the climbing season here in Tibet, on the North side of Mt. Everest. Our sherpas are on duty. I am working according to the acclimatization plan.
Yesterday I went to the Intermediate Camp at 5,800 m. to carry some loads. The camp was located on the glacier moraine. The trail was a moderate rocky trail with some icy sections. Everything was OK, though one piece of equipment failed to work. It happened about 100 m. below the camp. I was just making another step up, putting some weight on my left Black Diamond pole for support, when suddenly the pole collapsed and I fell  down on my left arm, hitting the rock with all my weight. The pain was so sharp that my first thought was: 'Will I still be able to climb Everest with the broken arm?' I examined my arm, it functioned, I was able to move my fingers. I was all right, just got a few bloody scratches. Three layers of clothes I had on me has softened the impact.
That was not not the first time the Black Diamond poles were broken while I was climbing/hiking. Last time it happened a couple of years ago while I was crossing the river after climbing Mt. Baker. I applied my weight on the poles to jump to another rock, and one pole got broken. It wasn't pleasant to fall into the river with a heavy backpack. I stayed with the brand, just bought a "heavy duty" Expedition Poles for Everest expedition. Enough is enough, no BD poles anymore. I wish I have with me my reliable Volki poles that I bought for two bucks on a garage sale. They served me well for about 100 vertical kilometers of hiking (mostly on Grouse mountain trails). They are one section poles, I wasn't able to take them on the plane.
Other than that small equipment failure everything if fine. I am in a good health and acclimatizing well. Please find some pictures. I will not provide updates for about four days since I will be up on the mountain, out of the Internet zone.
Thanks everybody for support,
Ravil
For more details and updates, visit Ravil's blog here:
http://8summits.com/blog/intermediate-camp-small-equipment-failure/
Ravil on Mt Everest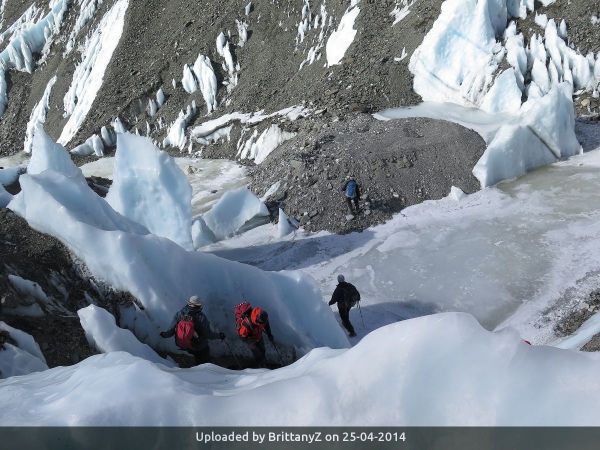 There are no comments yet