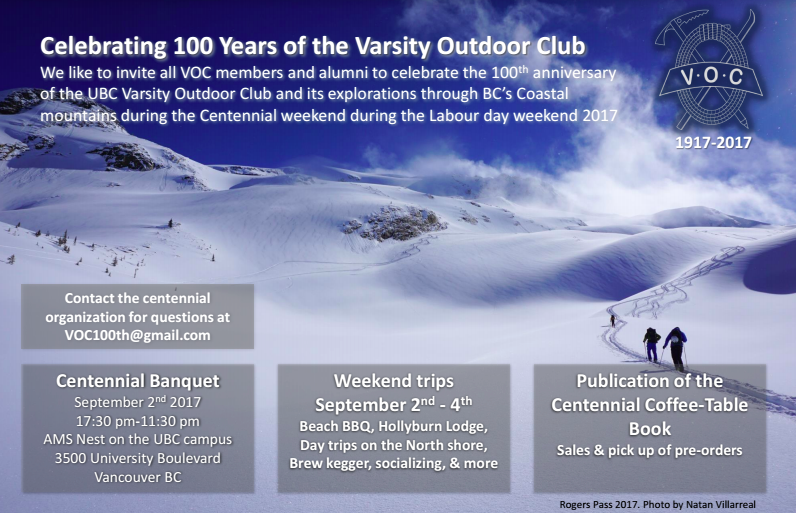 The UBC Varsity Outdoors Club (VOC) is very excited to be celebrating its centennial year as a club.
In case you have not heard yet, the UBC Varsity Outdoors Club is celebrating its centennial year. The club's rich history and 100 years of exploring the Coastal Mountains will be celebrated during the September Long Weekend, 2017. We will be connecting alumni and VOC members during a banquet on Saturday September 2nd on the UBC campus in Vancouver. If you would like to be a part of this memorable night, please purchase tickets to the event at this site. 
Also, do not miss the opportunity to order the special edition VOC Centennial Book. A Century of Antics, Epics & Escapades, a ~250-page coffee-table book that a dedicated group of volunteers has diligently put together, and which contains some of the best stories and photography spanning the club's entire 100-year history. Order your copy from the centennial website for $50. Copies of the book can be shipped to you for additional cost. Pre-ordered books can be picked up during the Centennial Banquet or in the clubroom after the centennial weekend. "


VOC Logo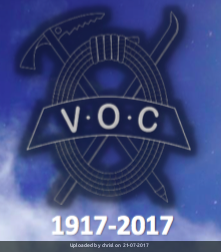 Poster
2258 Days Ago
There are no comments yet