28.03.2017 (1926 Days Ago)

Notices
| | | | |
| --- | --- | --- | --- |
| News Title | | Vancouver Writer's Festival - Robert Moor | |
Other News in this Category

On 
Wednesday, April 12 at 7:30pm
: acclaimed journalist and hiking enthusiast, Robert Moor; Governor General's award-winning author of The End of Absence, Michael Harris; and bestselling author Sharon Butala will speak about their new books at the Vancouver Public Library downtown branch. This is a free event; all are welcome to attend.
Throughout the evening:

- Robert Moor will read from and discuss his new book On Trails, named one of the best books of 2016 by Amazon. Moor has travelled the world by trails, and his book explores the healing powers of nature, and what we can learn from walking woods, sand and mountaintops. 
- Michael Harris will read from Solitude, an optimistic and encouraging story about discovering true quiet in a crowded city, where technology and busy schedules distract us from inner peace. 
- Sharon Butala will share from her new book, Where I Live Now, exploring her recovery from grief and loss, and her decision to move from country to city after her husband's unexpected death. 
We welcome you to share this event with your members, friends and anyone else from your community who may be interested in attending. 
For tickets (free to reserve in advance): 
http://writersfest.bc.ca/incite/april-12
--x--
Robert Moor has written for Harper's, n+1, New York, and GQ, among other publications. A recipient of the Middlebury Fellowship in Environmental Journalism, he has won multiple awards for his nonfiction writing. He lives in Halfmoon Bay, British Columbia. On Trails is his first book.
Named as one of the 'Best Books of 2016' by the National Post and Amazon, On Trails is a wondrous exploration of how trails help us understand the world. For seven years, Moor travelled the globe by trail, discovering the secrets of the world's master trail-builders and, in the process, found himself asking big, age-old questions about nature and humanity. Filled with findings from philosophy, science and history, On Trails is an insightful as it is joyous. 
Robert Moor, Vancouver Writers Festival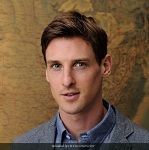 There are no comments yet