The Spearhead Huts Society invites you to:

The Spearhead Huts Après Celebration
Fundraising Social to complete the Kees and Claire Hut next summer!
Join the Spearhead Huts team, M.C. Mike Douglas, and a cast of local ski icons on opening weekend for bevvies and bites, and help support the completion of the fireset hut in Spearhead's hut-to-hut system. Celebrate this summer's groundbreaking and progress on the Kees & Claire Hut, get the latest project updates and plans, and rally participation and donations for the exciting next construction phase in summer 2018.
Details
Tickets: $75 for event entry, 2 drinks, delicious tapas, an amazing evening, and some gifts from our sponsors. Support the project and have a blast. A portion of the ticket price may be eligible for a tax receipt.
Program: Silent Auction // Social // Project Updates & Announcements
Timing: Doors 3:30 pm. Bevvies & bites available. | Program 4-6 pm.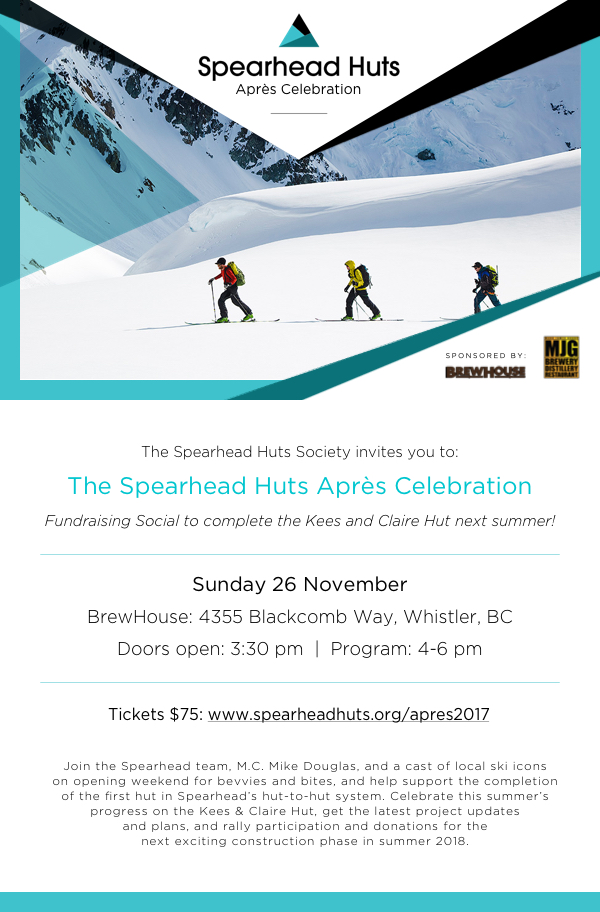 The Spearhead Huts Après Celebration



There are no comments yet