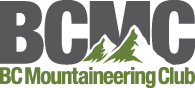 NOTICE OF ANNUAL GENERAL MEETING to be held on November 14th at 7:30pm at the ANZA Club, 3 West 8th Avenue, Vancouver, BC.
AGENDA
1.  Approval of the 2016 AGM Minutes
2.  President's overview of 2016/2017
3.  Financials: The 2016/2017   - Financial report By James Worth - Treasurer and Wilson Edgar President.  Financial statement to be approved by the membership. Budget 2017/2018 Present
4.  Executive Election: 
The current list of BCMC Members running for volunteer Executive Committee (a.k.a. Board of Directors) positions for the term of November 15th, 2017 to November 14th, 2018 are:
Positions Requiring a Dedicated Vote:
PRESIDENT:   Wilson Edgar
VICE-PRESIDENT:   Chris Ludwig
SECRETARY:   Geoff Zenger
TREASURER:   James Worth
Positions Collectively Voted on:
TRIPS & CLIMBING:   Bill Mauer
COURSES & CAMPS:  Peer-Daniel Krause
CABINS & TRAILS:   Paul Kubik
FMCBC REPRESENTATIVE:  Brian Wood
BCMC SOCIALS:  Polina Andreychenko
WEB ADMINISTRATOR:   Paul 0lynek 
Position not requiring a vote:

PAST-PRESIDENT:   David Scanlon 
Please note that the BCMC Constitution limits the number of club members who can serve on the Board of Directors (a.k.a. Executive Committee) to no more than 13.  
We are still looking for an enthusiastic and knowledgeable volunteer who would be willing to replace Geoff Zenger as Secretary of the Board of Directors.  
We are always looking for members to volunteer time to support our club's growth and ongoing program development.
5.  NOTICE OF SPECIAL RESOLUTION
Club Number S-00330 
The Board of Directors of the The British Columbia Mountaineering Club hereby gives notice of the following special resolution, which will be voted on at the Annual General Meeting:
Dated at Vancouver, British Columbia, October 31,2017
By: Wilson Edgar (President)
Resolution is made to adopt the revisions to the BCMC's constitution to stay current with requirements of the Societies Act of BC. 
As seen in the revised BCMC Constitution document (downloaded from Event Files in left column) which also has explanations of the changes (Marked in Blue)
Appendix
1.   A special resolution cannot be amended. That is, once it's finalized, and notice of it is given to the members.
2.  75% of the voting members present at the meeting must vote in favour of a special resolution for it to pass, and a quorum must be present.  A quorum is 25 members who are entitled to vote.
3.  A resolution, if it passes, does not take effect until it is filed at the Registrar's office in Victoria.
Thank you,
Wilson Edgar - President of the BCMC
BCMC Crest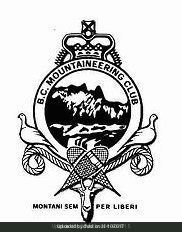 Updated Constitution
2159 Days Ago
There are no comments yet