Welcome to the British Columbia Mountaineering Club








Welcome to the B.C. Mountaineering Club
The BCMC is a group of like-minded individuals who participate in outdoor activities. The club was established in 1907 and in September 2019 reached a new milestone of 1,300+ active member accounts. The club organizes mountaineering, rock climbing and back country skiing trips throughout the year. The BCMC holds monthly socials, offers courses to members and represents the interests of mountaineers and back country skiers in British Columbia.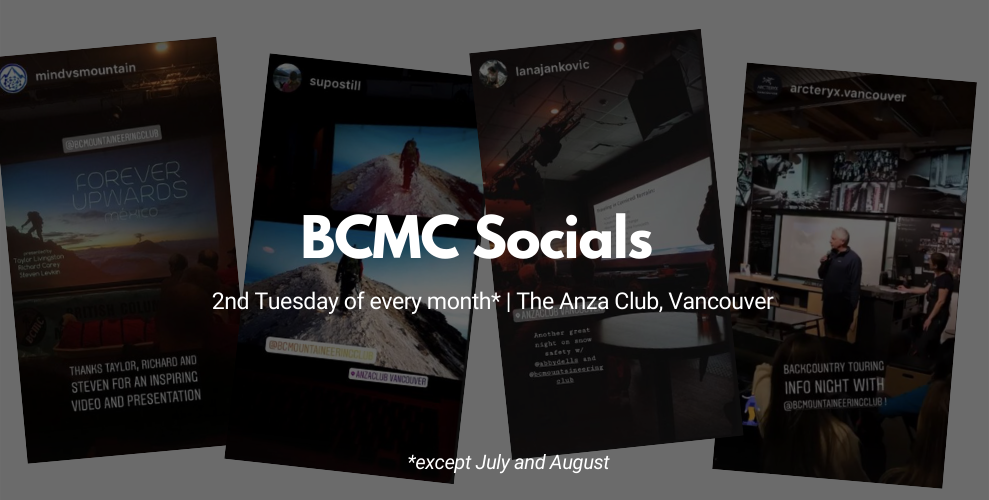 BCMC SOCIAL EVENT - Dec 13, 2022 [IN-PERSON]
"Sand, Solitude, Stars and Surprises"
 ---
Presenter: John Kelly | Adventure Trekker, Backpacker, and International Traveller
Born and raised in the West Kootenay area the mountains, waterways, and forests were arms reach for John Kelly. A professionally trained Wildlife Biologist but also an avid explore mainly on foot as it allows to embrace the natural landscapes and interact with the local people. 
Kelly has hiked and backpacked to many destinations across the globe. He has hiked the well-known Machu Picchu, K2 base camp in Pakistan, explored the Wakhan Valley in Afghanistan and he will be speaking about how he wandered across the Dasht-e Lut (the Lut Desert) in Iran. 
Location: The Anza Club, #3, West 8th Ave., Vancouver | 19+ | Doors Open: 7:00 PM, Event Starts: 7.30 PM 
---
BCMC COVID GUIDELINES
Watersprite Lake Hut, Mountain Lake Hut, North Creek Hut and Plummer Hut are now open and can be booked online.
Normal Operations Resume for BCMC Trips up to a maximum of 50 Participants
Please follow all Provincial Health Guidelines: https://www2.gov.bc.ca/gov/content/covid-19/info/restrictions
---
 BCMC MENTORSHIP PROGRAM | WINTER SEASON 2022/23 - APPLICATIONS CLOSED
Our Winter Season 2022/23 Mentorship Program is now closed for applications (Mentor and Mentee).
---
Follow us on Facebook | Instagram | Twitter | YouTube | LinkedIn

Conservation & Parks Issues

The BCMC took over ownership and the management of Backcountry BC in January of 2018.  All Advocacy, Recreation and Conservation issues are hosted, discussed and handled on the new and active website. www.backcountrybc.ca Backcountry BC was built and is operated by the BCMC Web Team. ...

From Backcountry BC on Pinecone Burke: - by Chris Ludwig (posted also on Backcountry BC) "The planning process for Pinecone Burke Provincial Park is currently underway.  This planning process is to create the park's first Masterplan that will determine what is allowed and what is not allowed in the park for decades to come.  This is accomplished through zoning. ...

The most famous East Indian climber in the world!

Approach from Watersprite winter route, ascent of Crawford west ridge, descent by proposed Watersprite Lake summer route to Darling Lake trailhead, back along Skookum IPP road to parked vehicle.