Welcome to the British Columbia Mountaineering Club








Welcome to the B.C. Mountaineering Club
The BCMC is a group of like-minded individuals who participate in outdoor activities. The club was established in 1907 and in September 2019 reached a new milestone of 1,300+ active member accounts. The club organizes mountaineering, rock climbing and back country skiing trips throughout the year. The BCMC holds monthly socials, offers courses to members and represents the interests of mountaineers and back country skiers in British Columbia.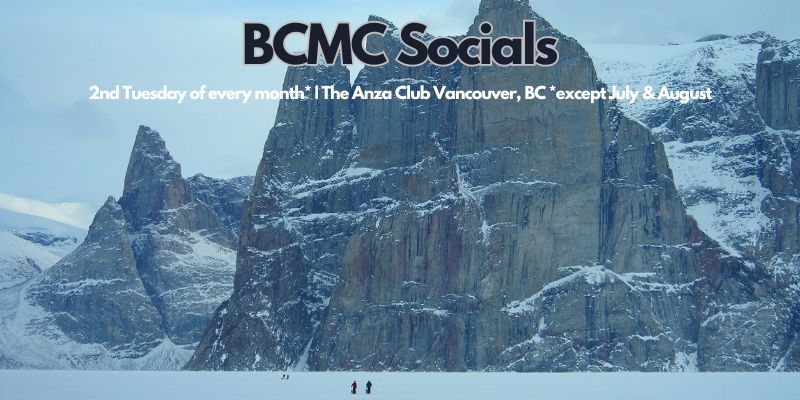 BCMC SOCIAL EVENT - October 10th, 2023 [IN-PERSON]
" One the Ice 'Baffin Island' Expeditions 2007 / 2023 "
 ---
Presenters: Chris G. Cooper
⏰ Save the date! You won't want to miss out hearing about the Baffin Island expeditions that took place between 2007 and 2023. You will get a chance to see images and hear stories of the most amazing landscapes in Eastern High Arctic.

Chris Cooper has self published a hard copy coffee table book with 60 years of expeditions and 250 mostly full size pictures.  There will be copies for sale and will be available to sign the book.

 IN SEARCH of WILD PLACES by Chris G. Cooper

The cost is $100.00

**** This presentation will be subsidized by the BCMC. While not mandatory, we will be collecting cash donations at the door to help with the subsidy. Thank you!****
 See you there!

Location: The Anza Club, #3, West 8th Ave., Vancouver | 19+ | Doors Open: 7:00 PM, Event Starts: 7.30 PM

Conservation & Parks Issues
2255 days ago
13 comments
Category: Park Huts

The BCMC has been a long standing/founding member of the Federation of Mountain Clubs and BCMC members form a large portion of FMC committees.  However, many of us now have concerns regarding our continued membership in the FMC.  A great deal has transpired in the background, and I believe it is time to involve and inform the broader membership. This journey beg...

I led an operation to test the Cypress Resort's defense perimeter around the Howe Sound Crest backcountry access corridor (BAC). Our group of 7 and another group of 4 also known to us arrived at the designated overnight parking at the north end of lot 3B about 6:45 AM. We gained Cypress Bowl Road from Chippendale Road (reached from the 21ST Street entrance off Hi...

27.08.2023
0 comments
59 views
Category: Hiking 
Hike "Herding screaming cats and icebergs" 26 August 2023


16.04.2023
0 comments
246 views
Category: Hiking 
The mentorship project ends as it started, in a storm with no viz.