Welcome to the British Columbia Mountaineering Club








Welcome to the B.C. Mountaineering Club
The BCMC is a group of like-minded individuals who participate in outdoor activities. The club was established in 1907 and in September 2019 reached a new milestone of 1,300+ active member accounts. The club organizes mountaineering, rock climbing and back country skiing trips throughout the year. The BCMC holds monthly socials, offers courses to members and represents the interests of mountaineers and back country skiers in British Columbia.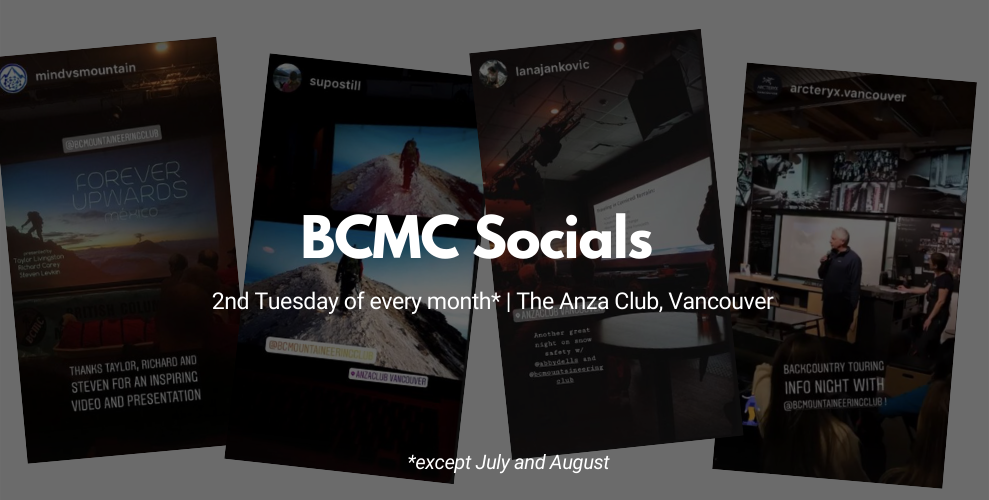 BCMC SOCIAL EVENT, June 14, 2022 [IN-PERSON]
"Realm of the 7000 and 8000 m peaks"
Presenter: Dr. Dave McClung, an active mountain explorer as well as Professor of Geology at UBC and also holds the NSERC Industrial Research Chair in Snow and Avalanche Science 
Location: The Anza Club, #3, West 8th Ave., Vancouver | Doors Open: 7:00 PM, Event Starts: 7.30 PM
---
BCMC COVID Guidelines
Watersprite Lake Hut, Mountain Lake Hut, North Creek Hut and Plummer Hut are now open and can be booked online.
Normal Operations Resume for BCMC Trips up to a maximum of 50 Participants
Please follow all Provincial Health Guidelines: https://www2.gov.bc.ca/gov/content/covid-19/info/restrictions
---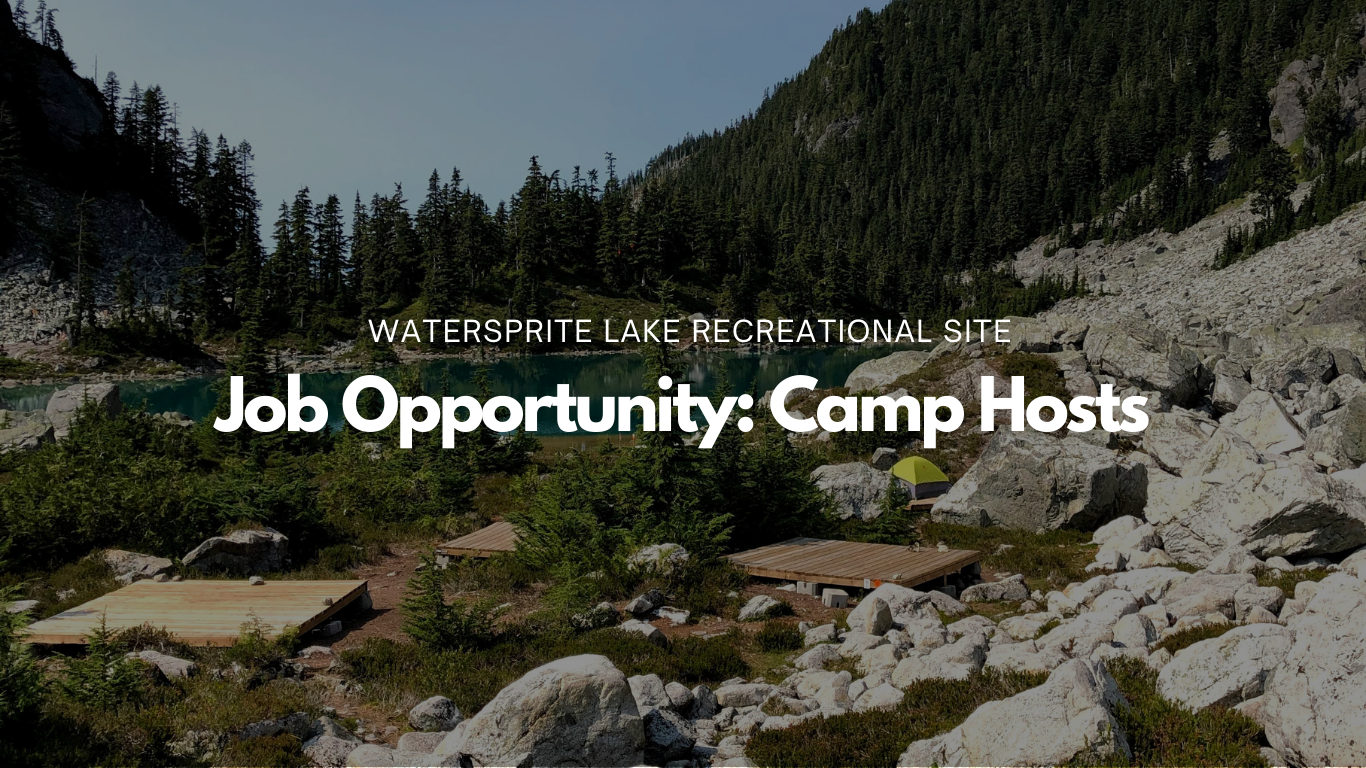 JOB OPPORTUNITY - WATERSPRITE LAKE REC SITE: CAMP HOST
Summer Season 2022
This position is open for anyone to apply for [does not require BCMC Membership]. This is a great chance to get involved and further support the local outdoor community. Keen on applying? Great, then send your application to marketing@bcmc.ca [use subject title: Camp Host Job Application]. Make sure to include: Cover letter outlining your background and motivation, Resume and Copy of First Aid Certification

For full role description, click here.
---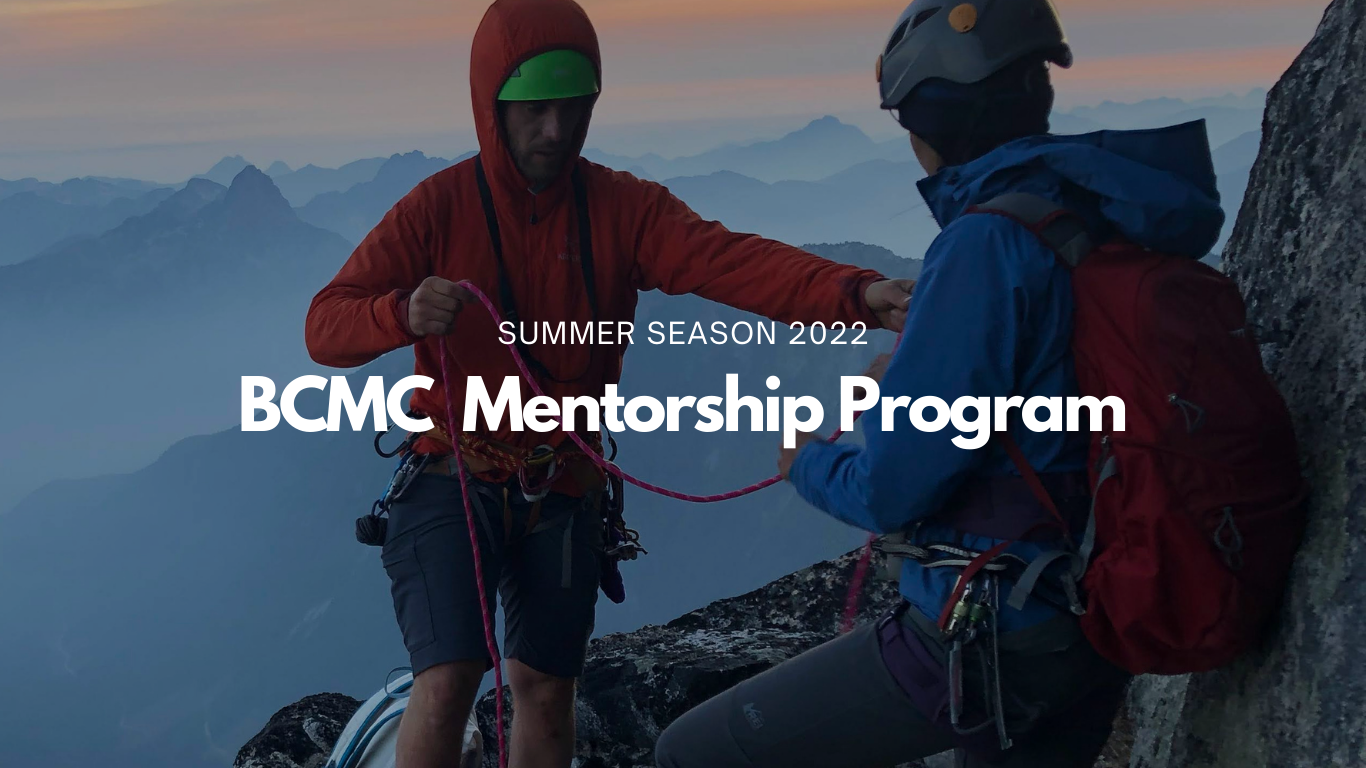 BCMC MENTORSHIP PROGRAM SUMMER 2022 HAS COMMENCED
We are thrilled to share that we have paired 34 mentees with 18 mentors. For any questions around existing or potential future mentorship programs, email: marketing@bcmc.ca
---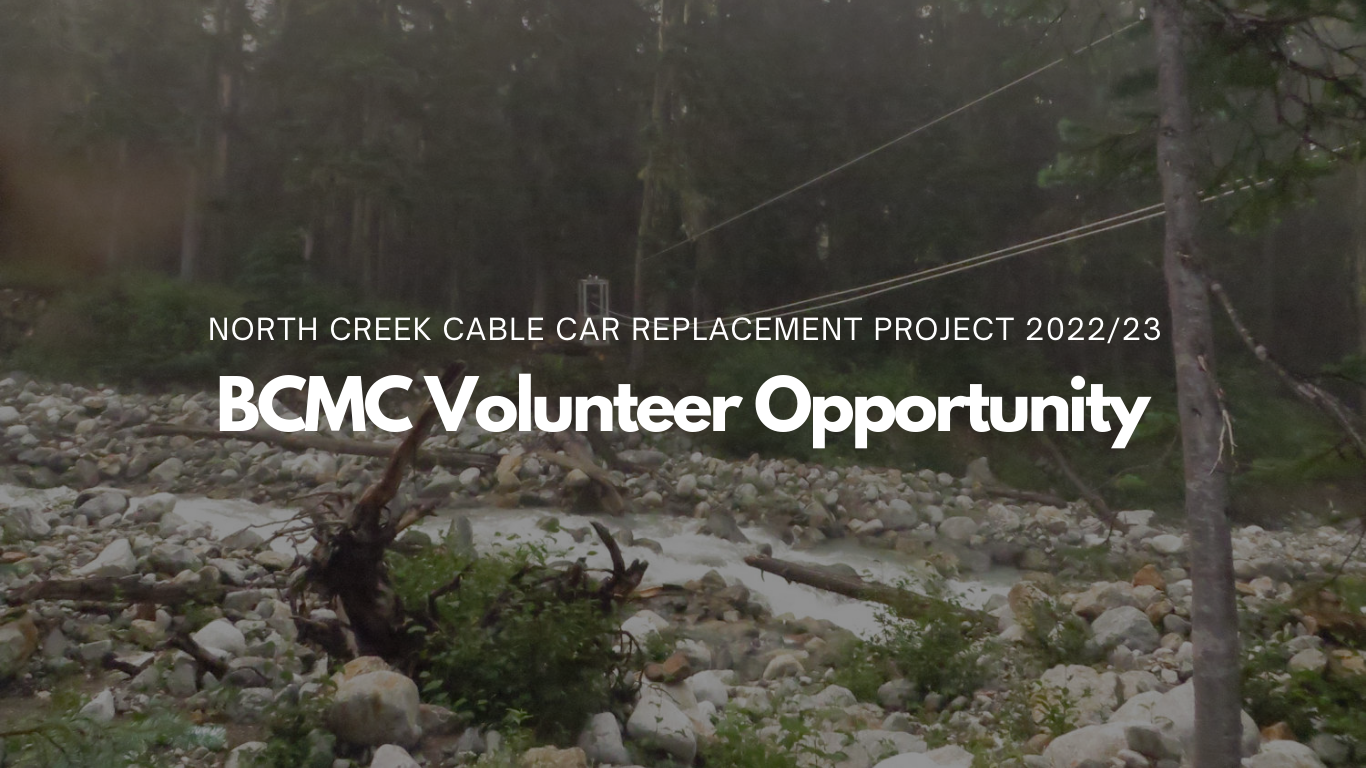 BCMC MEMBER VOLUNTEER OPPORTUNITY | PROJECT MANAGER
Project: North Creek Cable Car Replacement, 2022/23
We are seeking a volunteer Project Manager to take on the North Creek cable car replacement [project aimed at being initiated in 2022 & completed in 2023]. We are looking for someone that wants to contribute their management and logistics skills to the project or develop their skills. The Project Manager will demonstrate financial probity and would ideally engage other volunteers to help out as needed. 
For more information and to apply, email: marketing@bcmc.ca
---
Follow us on Facebook | Instagram | Twitter | YouTube | LinkedIn

Conservation & Parks Issues
1757 days ago
13 comments
Category: Park Huts

The BCMC has been a long standing/founding member of the Federation of Mountain Clubs and BCMC members form a large portion of FMC committees.  However, many of us now have concerns regarding our continued membership in the FMC.  A great deal has transpired in the background, and I believe it is time to involve and inform the broader membership. This journey beg...

I led an operation to test the Cypress Resort's defense perimeter around the Howe Sound Crest backcountry access corridor (BAC). Our group of 7 and another group of 4 also known to us arrived at the designated overnight parking at the north end of lot 3B about 6:45 AM. We gained Cypress Bowl Road from Chippendale Road (reached from the 21ST Street entrance off Hi...

Taking the trails from NVan MEC potentially as far as Norvan falls but depending what folks want, we'll turn around at Lynn Headwaters.

Easy going run pace starting at the Old Buck trailhead at the base of Seymour heading to Deep Cove and looping back via roads

Follow up to the presentation on DIY forecasting from the comfort of your own home.