FEDERATION OF MOUNTAIN CLUBS OF BC
ANNUAL GENERAL MEETING HOSTED BY BCMC
The BCMC is hosting this year's FMCBC AGM over the weekend of May 27-29, 2016. We are looking for volunteers to help arrange and transport food/drinks for the Friday evening Meet and Greet, as well as for breakfast and lunch for the Saturday all-day meeting at UBC.
 
For the M&G, if the weather is good we will meet at Locarno Beach. This should be similar to the BCMC's August BBQ's that have been held there in the past, often well run by Kevin.  If the weather is bad we will meet at Brian Wood's house in UBC (we'll make the call on Wednesday evening and notify attendees Thursday morning). Some FMC directors will have driven in from the Interior and will be tired and need feeding. I understand there is a BCMC budget item for this.

For the M&G the BCMC will provide a potluck evening meal, plus snacks and drinks. Brian will provide a table, a BBQ stove and twin burner Coleman Stove for cooking, a pot of chilli but we will also need bread rolls, burgers, hot dogs, salads, fresh and perhaps cooked vegetables, and drinks such as coffee, tea, pop etc. If the event is held at Locarno, it will necessarily be a liquor-free event. If you have useful picnic stuff, e.g. tables, chairs, BBQ stove, cooking stuff, cups, plates, KFS, etc., please bring them to help folks relax and enjoy themselves and to reduce use of disposables.
For Saturday breakfast we need volunteers to buy from the local stores trays of snacks, fruit and muffins to deliver to UBC before 9:00 a.m. (There is a Save-on-Foods on campus that can be ordered from with 48 hours notice, as well as an IGA near 4th and Alma). Coffee and tea will be needed somehow, but there is a kitchen and servery adjacent the meeting room which will be the AMS OLD SUB Party Room. For lunch we need volunteers to make or buy sandwiches, cut up fruit and vegetables, cakes, muffins etc. for delivery to UBC by noon.

Also, we are still short of billets for Friday and Saturday night.
If you would like to volunteer for any of these things, please contact Brian (604 -222-1541) with more ideas and offers to help on one or both days. We are the largest club in the FMCBC and so should be able to field ample volunteers to make hosting the AGM a success. The more volunteers we get, the more we can spread the work around.
Remember, everyone is welcome to attend the M&G and so we hope to see you there. Please let us know if you want to attend the AGM itself, and also the evening panel discussion on Commercial Activities in BC Parks.
FMCBC Header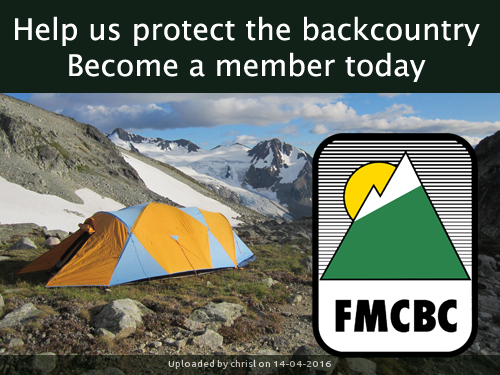 There are no comments yet